I love my outside training practice. It's hard in the summer sometimes because it's too warm for me to be out. But as soon as we have a few cooler days, my human takes me either out front or out back for some fun and tricks.
This most recent time, I even got to do bell practice outside!
While it's important for me to just enjoy some time outside, my human often tries to fit in training sessions. That's because working with all the distractions outside, like birds and lizards and noisy neighbors (they usually aren't that noisy, really) helps to strengthen my training. If I can high five while a dog is barking, it shows I'm confident — and I know my stuff! Also my ability to perform simple tricks and accept treats often indicates my stress level. And that's easier to gauge if I am already used to doing them away from home.
I think my outside training practice deserves a high five! And you can see me in action and having fun in the short video below.
Other posts you'll enjoy:
* * *
---
---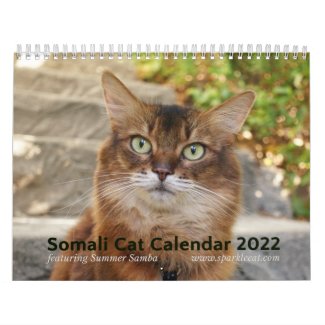 2022 Somali Cat Calendar Starring Summer Samba
See all of Summer's merch at her
her Zazzle Designercat Shop