Other than Cat World Domination Day, my favorite holiday is National Fried Chicken Day! I mean, how could it not be? Chicken is my favorite thing, with catnip a close second.
Every year, my human tries out somewhere different. This year it was Gus's World Famous Fried Chicken. To be honest, she couldn't remember hearing about it before.
Because of the "hot and spicy" part, my human insisted on pulling off the skin (and eating it herself) before digging inside for pieces that were safe for me.
I think she had a little more than just the skin and spicy parts before letting me have some!
Don't worry, I did get my share! And you can see me enjoying it in the short video below.
If you are enjoying my videos, make sure you Like them on YouTube and Subscribe to my channel!
Other posts you'll enjoy:
* * *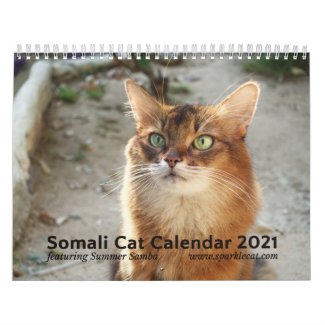 2021 Somali Cat Wall Calendar, Starring Summer
See all of Summer's merch at her
her Zazzle Designercat Shop