I originally had a different post for today (you will see it tomorrow), but my human captured Binga in a surprisingly good mood yesterday morning. She woke up to this face, and took a few photos, one of which is above. She also shot some video so you could hear the audio of Binga purring. I figured that you would enjoy seeing (and hearing) her in a good mood, and not whapping anyone. So here you go — make sure your sound is turned on, and speakers turned up!
If you can't see the above video, click here to watch it on YouTube.
We'll return to our regular programming tomorrow.
* * *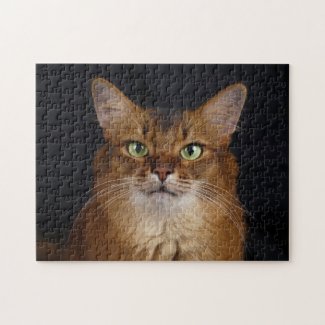 Somali Cat Photo Portrait Jigsaw Puzzle
See all of Summer's merch at her
her Zazzle Designercat Shop