I'm going to do something a little different for this week's Sunday Catinee and tell you about these awesome guys named Shaun Sears and Tom Otto. Together they are Canopy Cat Rescue, and they save cats stuck in trees in the cities of Tacoma, Seattle, Olympia and surrounding areas! They are animal lovers (both live with cats and dogs) and certified arborists. They are highly skilled at climbing trees and rescuing cats. They videotape their rescues and post them on YouTube, and my human has been watching these clips for a long time. Now I am addicted to them too. Watching these scared kitties get saved always makes us feel good, so I wanted to share a couple of their videos.
I love Dawson's rescue. He's an indoor-only kitty who escaped from the new home his family just moved into. Somehow he wound up in a big fir tree, and his rescue drew a crowd.
If you can't see the video above, click here to watch it on YouTube!
Sky had been stuck in the tree for about a day last December (many kitties are in trees for several days before someone calls Canopy)… and just wait til you see that tree!
If you can't see the video above, click here to watch it on YouTube!
You can see lots more videos on the Canopy Cats YouTube Channel, and read about their rescues on their Facebook page. You know what makes these guys even more awesome? They work on a donation only basis "to ensure that all cats have an opportunity to be rescued"! Even so, I am sure their efforts are more often than not very well rewarded.
* * *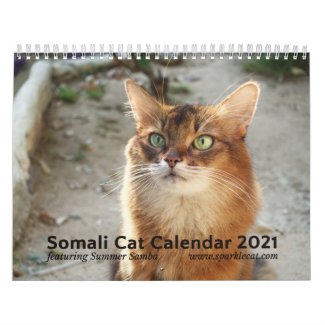 2021 Somali Cat Wall Calendar, Starring Summer
See all of Summer's merch at her
her Zazzle Designercat Shop