Now that I am a grown-up kitty, at least in the world of cat fancy (at eight months old I'll now compete with adult altered cats), I think I am old enough to stay out all night, dancing to loud, electronic music! And apparently, the Meow Mix humans know where all the underground after-hours kitty-cathouses are, because they have an EDM version of their song:
If you can't see the above video, click here to watch it on YouTube!
I just hope my human doesn't try to come along — wouldn't that be embarrassing?
* * *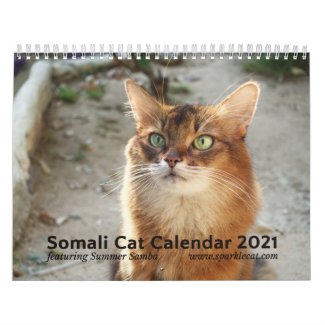 2021 Somali Cat Wall Calendar, Starring Summer
See all of Summer's merch at her
her Zazzle Designercat Shop