You know those videos where a group of kittens watch a moving toy with utmost concentration, and the editor obviously keeps reversing the clip over and over again? Well, this is like that… only without the trick photography! That's right, this clip is live, done in one shot, and except for a couple of missteps, you could mistake the moves for visual effects! (BTW, it is also a cute ad for the Seattle Humane Society.)
If you can't see the video above, click here to watch it on YouTube!
* * *
Check out my Valentine's Day Collection on Zazzle!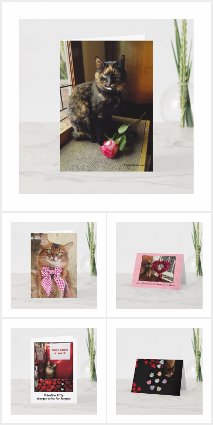 See all of Summer's merch at her
her Zazzle Designercat Shop