[Note: I almost did not feature today's video because I was worried it might upset some humans who would worry that the kitty, MJ, wasn't secured. So I ran it by the readers of my Facebook page and asked them what they thought. Out of 23 individual comments, only two had issues with it — and one human pointed out that MJ was probably safer unsecured because if an accident happened, he could jump free and was less likely to be crushed. Most humans enjoyed it. So I am letting it stay.]
Rudi Salida rides his bicycle around Philadelphia… and he is sometimes accompanied by his cat, MJ. Rudi captured these clips of him and MJ with the help of a GoPro camera, and you can tell the two of them have an amazing relationship, one filled with trust and lots of love. But before you watch this beautiful and hypnotic video, let me warn you: do not try this at home!
If you can't see the above video, click here to watch it on YouTube!
* * *
---
---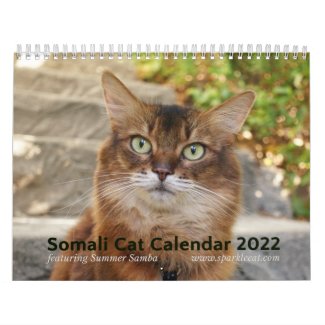 2022 Somali Cat Calendar Starring Summer Samba
See all of Summer's merch at her
her Zazzle Designercat Shop