A while back, Big Cat Rescue featured some of their tigers, lions and leopards enjoying catnip. Apparently some humans argued that there was no science behind the claim that these big guys did, in fact, enjoy the nip. So to placate the naysayers, they threw another nip party for their charges… in a more scientific vein. Well, not really… check it out:
If you can't see the video above,
click here to watch it on YouTube!
—
Remember to nominate me for The Petties, especially my story Humans Are Willfully Destroying Our Bird TV (https://www.sparklecat.com/special/humans-are-willfully-destroying-our-bird-tv) for Best Blog Post! You can do this every day until June 28 — the more times, the better!
* * *
---
---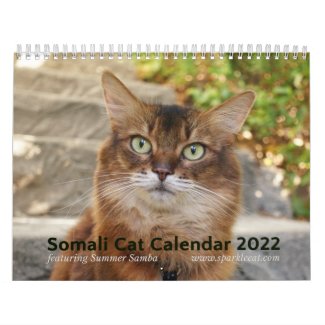 2022 Somali Cat Calendar Starring Summer Samba
See all of Summer's merch at her
her Zazzle Designercat Shop