There are countless sad stories in the wake of Japan's March 11 earthquake and subsequent tsunami. Take this human, for example. When the tsunami warning sounded, she searched in vain for her cat, and had to leave her behind. She returned to find her home, while still standing, completely ruined… but her cat still alive!
Click here if you can't see the video above.
Here is an approximate translation of part of the clip. I added the cat, since the original left it out:
Voiceover: After the earthquake, the citizens return to their changed town.
Woman: I had a cat, and when the tsunami came, I looked for it. But I couldn't find it, so I had to escape.
VO: When they go into the house…
Man: So what was this room?
W: This was the dining room.
M: That's a tree from outside?
W: Yeah, that's amazing…
Cat: Hello? Help! I'm up here! Hello! Hel-lo!!!!
W: Ah! The cat's alive! I can hear it!
C: Thank Cod you came back! You have no idea what I just went through.
M: That's great! It looks like it escaped to the second floor when the tsunami came.
C: Tell your friend to turn that camera off and come get me. I ain't coming down unless you promise it's safe.
* * *
---
---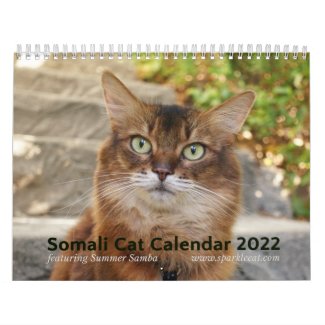 2022 Somali Cat Calendar Starring Summer Samba
See all of Summer's merch at her
her Zazzle Designercat Shop