Of course my human shot video when I modeled my reader's choice Halloween costumes! How could she not? And it's live and on YouTube (and here) for all to see.
Now you get to find out if the red lobster costume was as awkward as it looked in photos. (Spoiler alert: it was.) And you can see just how difficult it was to keep the ladybug hood over my head.
So what are you waiting for? The video is right here, and in only a little over two minutes, you get to see for yourself what I really thought of these two costumes!
If you enjoy the video, I would really appreciate it if you could give it a Like on YouTube. And if you haven't already, Subscribe to my channel so you can be the first to see my videos when they come out!
* * *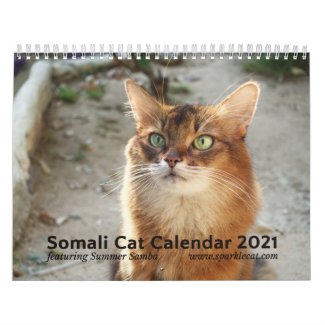 2021 Somali Cat Wall Calendar, Starring Summer
See all of Summer's merch at her
her Zazzle Designercat Shop