As you know, I wear costumes sometimes, and usually I am fine with it. I get treats, and often I play while wearing an outfit, or wander off during a photo shoot with it on… just like when I'm not wearing anything at all! Remember the New Year's Eve hat I was wearing around my neck? I barely noticed it was there. I'm au naturel today, though, because I am discussing something that, while funny, might also be a bit serious.
A popular Japanese YouTube human with 10 cats (the account is actually called 10 Cats) posted a video of one of their feline stars wearing a monkey costume. Actually it's not even a costume — it's more of a plushie with a hollow face that the cat's head can fit through. You can see the video below:
If you can't see the above video, click here to watch it on YouTube!
The thing is, some people seem to think that the outfit is cruel and the video has gotten a lot of complaints and down votes. As a cat who wears outfits, I have to disagree with these people. Cats that don't like wearing something will immediately squirm out of it or shake it off. I've done that, and if my human thinks I really hate it, she won't make me wear it anymore. This cat just sits there with it on, and while he doesn't always look thrilled, most of the time he doesn't look unhappy either. In fact, he seems pretty enthusiastic about that banana! (I'm guessing there was something meaty rubbed on it… although, who knows? Maybe he really does like bananas. I enjoy cantaloupe, after all.)
So I have my opinion… but I want to hear yours! After you've watched the video, vote in the poll below and tell me in the comments: do you think this monkey costume is cute or cruel?
Loading ...
* * *
---
---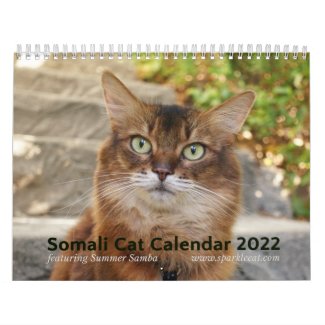 2022 Somali Cat Calendar Starring Summer Samba
See all of Summer's merch at her
her Zazzle Designercat Shop