I have a couple of new segments of Summer TV for you! One of them is from a modeling session inside, and another is from an outing I had this week. My human just downloaded a new (to her) video editing program, so she was able to cut them down fairly well so that only the good stuff was left. She actually used to work in film editing many years ago.
They are both vertically oriented because they are meant for my IGTV channel on Instagram.
Anyhow, here's me modeling my spring dresses that you saw the other day.
I was expecting to spend more time outside, but we were interrupted by an unexpected visitor! You can see who it was at the very end.
I hope you enjoyed the latest edition of Summer TV!
* * *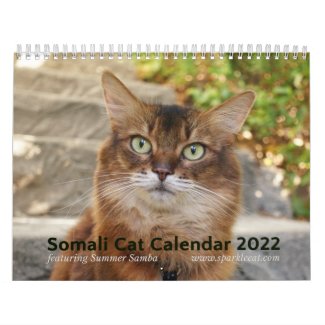 2022 Somali Cat Calendar Starring Summer Samba
See all of Summer's merch at her
her Zazzle Designercat Shop