I thought you would like to see my morning routine when my human and I are getting ready for a therapy cat visit. It's pretty similar every time. My human places the tote bag and my carrier on the dining room table. Then, after she's put the harness on me and made sure I visited the litter box, I go into the carrier. I always get two treats: one to get me pumped up to go, and one to eat while she zips up the carrier. My human thinks that if I eat something in the carrier, I'll be less likely to have an, um, accident. So far, she's right.
Boodie knows the routine too. So a lot of times, she'll also be on the dining room table, waiting for a treat… which she always gets. For some reason, Binga is usually not present for this. But she's always around when we get back. That's when I get a coming home treat — and of course Binga expects one too.
My human shot the below video on Sunday, before the therapy cat visit I blogged about yesterday. She didn't realize until she looked at the video that I was making cute blinky eyes! I guess she's used to them. I shared the video a couple of days ago on Instagram, but I thought my non-Instagram blog visitors would like to see it too.
If you can't see the above video, click here to watch it on YouTube.
In case you are wondering, the textile art on the dining chair seat is by Binga.
* * *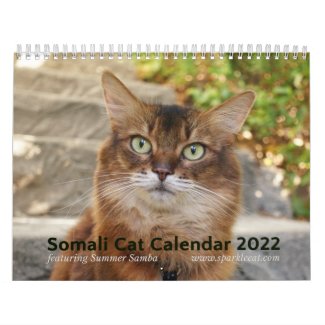 2022 Somali Cat Calendar Starring Summer Samba
See all of Summer's merch at her
her Zazzle Designercat Shop