I'm sure you remember my post in which I compared a catnip toy and a matatabi (or silvervine) stick. But what I didn't mention was that we shot some video! And now it's edited and up!
So which one do you think ultimately won out? The catnip rainbow?
Or was it the stick! Matatabi, silvervine, call it what you want. I call it — whoa!
See for yourself in the video below! It even has some fun facts about catnip and silvervine — and me! And while you're at it, make sure to stop by YouTube and Like it, and then Subscribe to my channel if you haven't already! As you can see, I'm posting pretty regularly there, and having lots of fun with it.
* * *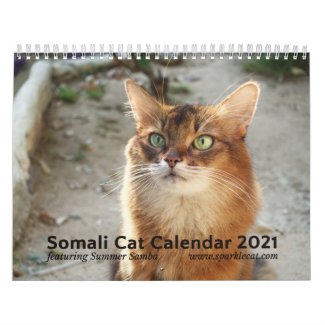 2021 Somali Cat Wall Calendar, Starring Summer
See all of Summer's merch at her
her Zazzle Designercat Shop