This video was meant to come out on Saturday, October 31, but then Boodie got sick. My human was so preoccupied trying to help her and still keep up my blog schedule that she wasn't able to finish it by then. But she finally got around to it this week, and now it's on YouTube.
To be honest, it's not a very good video, and the fact that I'm wearing Halloween dresses makes it irrelevant. But she shot it while doing the photo session, and it seemed wasteful to not use the footage. So, for better or worse, here it is. I hope you still enjoy it!
As always, if you can support my channel by Liking my video on YouTube, and subscribing, I appreciate it lots!
Other posts you'll enjoy:
* * *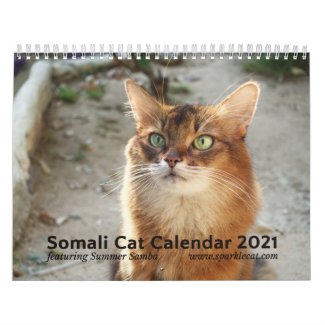 2021 Somali Cat Wall Calendar, Starring Summer
See all of Summer's merch at her
her Zazzle Designercat Shop