I'm back with my tiny pumpkin hat and a new video for you! Most of you don't dress up your cats for Halloween, but I think it is fun! And apparently there are some people out there who do want to dress up their cats. Around this time of year, one of my most searched for blog posts has tips on how to get your cat to wear a Halloween costume.
So basically my human used the blog post as an outline for this video. And of course I helped by showing examples of the tips, and by just looking cute.
It wound up being a lot more elaborate than we expected! It took three video shoots, and my human had to put together a bunch of title cards for the tips. But I think it was worth because it turned out pretty good!
So here's the video — I think it will make you smile lots, even if you don't need to know any of these tips. As always, if you could Like the video on YouTube, and Subscribe to my channel, if you haven't already, I'd super appreciate it!
* * *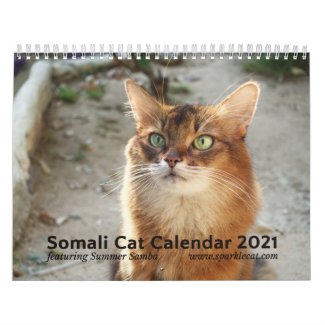 2021 Somali Cat Wall Calendar, Starring Summer
See all of Summer's merch at her
her Zazzle Designercat Shop