Although I haven't said much about it, it's been a stressful week here. Nothing bad. In fact, good in the long run! My human has painters here, fixing up several rooms of the house. (Yes, the same ones who were painting the outside a few weeks ago.) So big parts of the house have been blocked off from my supervision! And my human and I have been stuck at home, since she doesn't have anyone else here at the moment to keep an eye on them. So to keep me occupied one day, she shot this short video of me.
People on TikTok always ask questions about me on my videos. So we answered a few of them here, including the one that always gets asked: what breed am I? Those of you who come here regularly already know, but my human also explains a little bit about my breed characteristics.
Also I get to do some tricks! In addition to uploading it to TikTok, I thought I would share it with you here. I hope you enjoy it — it's less than a minute!
Other posts you'll enjoy:
* * *
---
---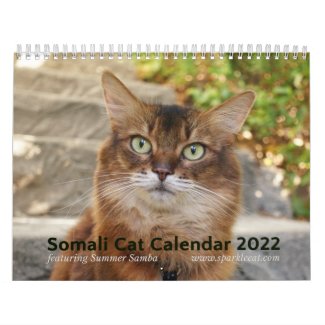 2022 Somali Cat Calendar Starring Summer Samba
See all of Summer's merch at her
her Zazzle Designercat Shop