This week started off with something surprising — my TikTok account surpassed 100K followers! Who knew that over one hundred thousand people are interested in seeing me?
My account was in the low 90s over the weekend, but one viral video helped push it over 100K in just a couple of days.
The funny thing is, the viral video is probably one of my silliest! At least according to my human. I occasionally post short facts about cats, and one we were planning on doing was about cats not having visible shoulders. Of course, since I like to wear things, and I am the accessory queen, the whole topic sort of changed. Instead of being about cat shoulder anatomy, it wound up being why cats can't wear necklaces, and what to wear instead. I posted it on YouTube so you can see it below.
The great part is that many of my TikTok followers understood that we were being ridiculous on purpose! Last I looked, it had more than 1.5 million views! Who knew? Anyhow, I hope you like the video too.
Other posts you'll enjoy:
* * *
---
---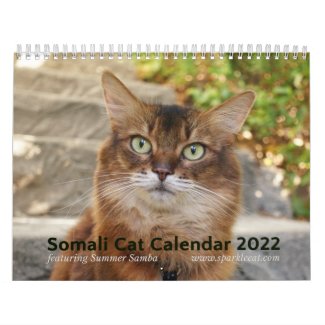 2022 Somali Cat Calendar Starring Summer Samba
See all of Summer's merch at her
her Zazzle Designercat Shop