Several of you have asked what kind of treats I was so enthusiastic about. They were Blue Buffalo Wilderness Soft-Moist Cat Treats! I like all the flavors I've tried, but the ones I had this particular day were the Chicken & Duck flavor, which I got as part of my Secret Paws package. Yum! My human's boyfriend referred to them as "kitty crack." But I think they are way better for you, since they are grain-free and made with real meat!


Yes, the link above is an affiliate link, so I get a commission if you click on it and actually buy them! But hey, that means I would a few cents closer to getting another package — you'd add an affiliate link too under those conditions!
* * *
Check out my Valentine's Day Collection on Zazzle!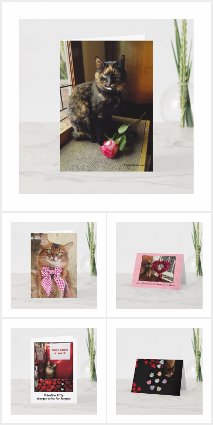 See all of Summer's merch at her
her Zazzle Designercat Shop