Disclosure: I am an Etsy affiliate, so I get a small commission if you buy anything after clicking through from my blog. However, I only share items I really think my readers would appreciate.
I wasn't going to do a shopping post for Halloween or Day of the Dead, which is why I'm sharing these items so late in the season. But over the weekend, my breeder told my human about a cat toy maker that had some really fun items. They have a store on Etsy, so I added a few more items from sellers around the U.S. and I'm sharing them with you! If you like anything, you should probably order it soon.
These embroidered catnip toys are almost too pretty to bunnykick! Oh, who am I kidding — once you get a whiff of these, you won't be able to contain yourself. You'll also probably want to lick the feather headdress into submission. There are also lots of other cool kitty toys from this store, Stark Raving Cat
This awesome bat toy is also from Stark Raving Cat. It's really creative, "like a small catnip kicker with wings." It also comes with a stretchy mesh cord so your human can make it fly!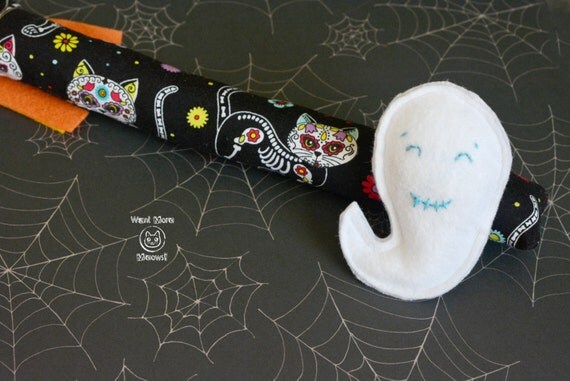 Day of the Dead Kicker and Ghost Cat Toy Duo
Why go for one toy when you can get two! The kicker has catnip, plus crinkly material and a bell inside for lots and lots of fun! The Kawaii Ghost is made of vegan felt (to please your cruelty-free human). In fact, the kicker is eco-friendly, so you can keep the planet happy while you enjoy your playtime. From Want More Meows.
This Cat Canoe® from The Cat Ball may be smallish — 20″ x 8″ — but some of their satisfied kitty customers have weighed up to 18 pounds! It's soft and nest-like, and I love the pattern!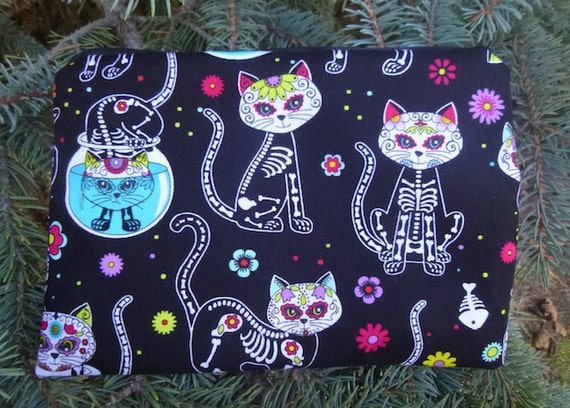 Day of the Dead Cats Zippered Make Up Bag
This handy 7-1/2″ wide bag can be used for so much more than make up! And the pattern is so cute (I especially love the Sugar Skull kitty in the fish bowl). From Zoe's Bag Boutique.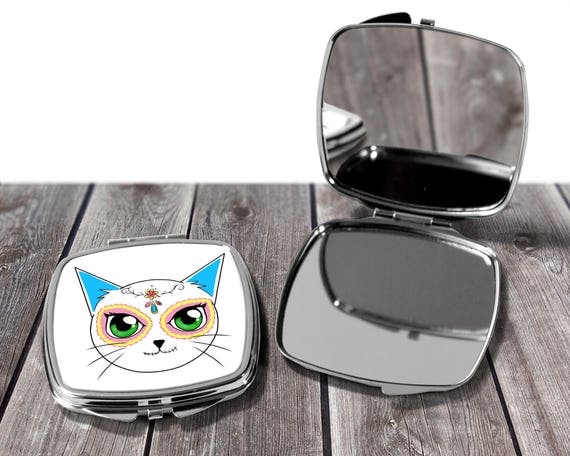 Day of the Dead Cat Mirror Compact
Isn't the Sugar Skull kitty that graces this mirror compact cute? And, come to think of it, it would go well with the make up bag above. It's 2.25″ x 2.25″ and comes from J Esquire Creations. (They have a giveaway at their shop that ends October 18, so check it out!)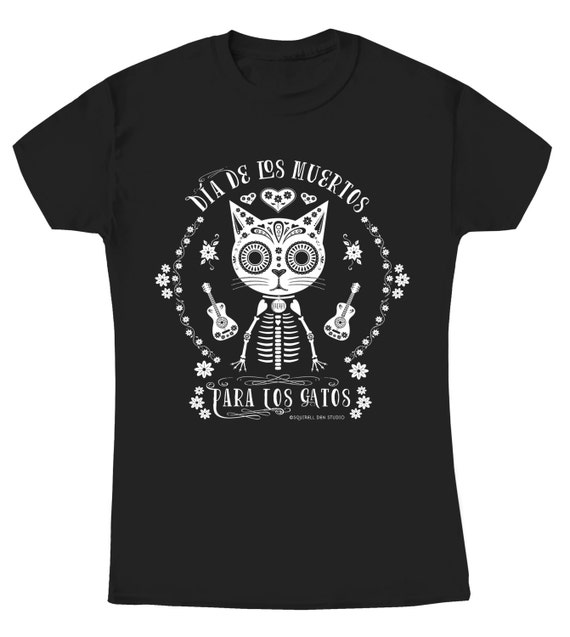 Dio de los Muertos Para Los Gatos Slim Fit T-Shirt
What a super-cool design on this slim-fit T-shirt! Squirrel Den Studio specializes in Kit-Tees, and you'll find this and other fun feline-centric designs at their shop.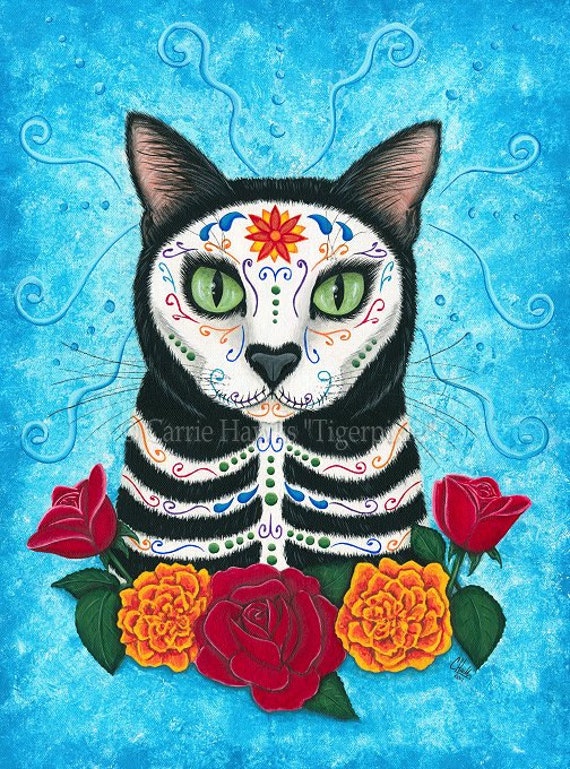 Day of the Dead Cat 8″ x 10″ Art Print
And finally, here is a really lovely Day of the Dead art print from one of my favorite Etsy artists, Carrie Hawks, also known as Tigerpixie! This is a full color professional quality open edition fine art print, printed on heavy weight glossy photo paper. You'll also find this image on other items in her store, so go look!
I hope you like my choices for you! I had lots of fun picking them out.