Today is Small Business Caturday, to raise awareness for small businesses during the holiday shopping season. So I wanted to share some holiday gift ideas from small businesses that sell on Etsy — half for human recipients and half for cat recipients. I hope you like my picks!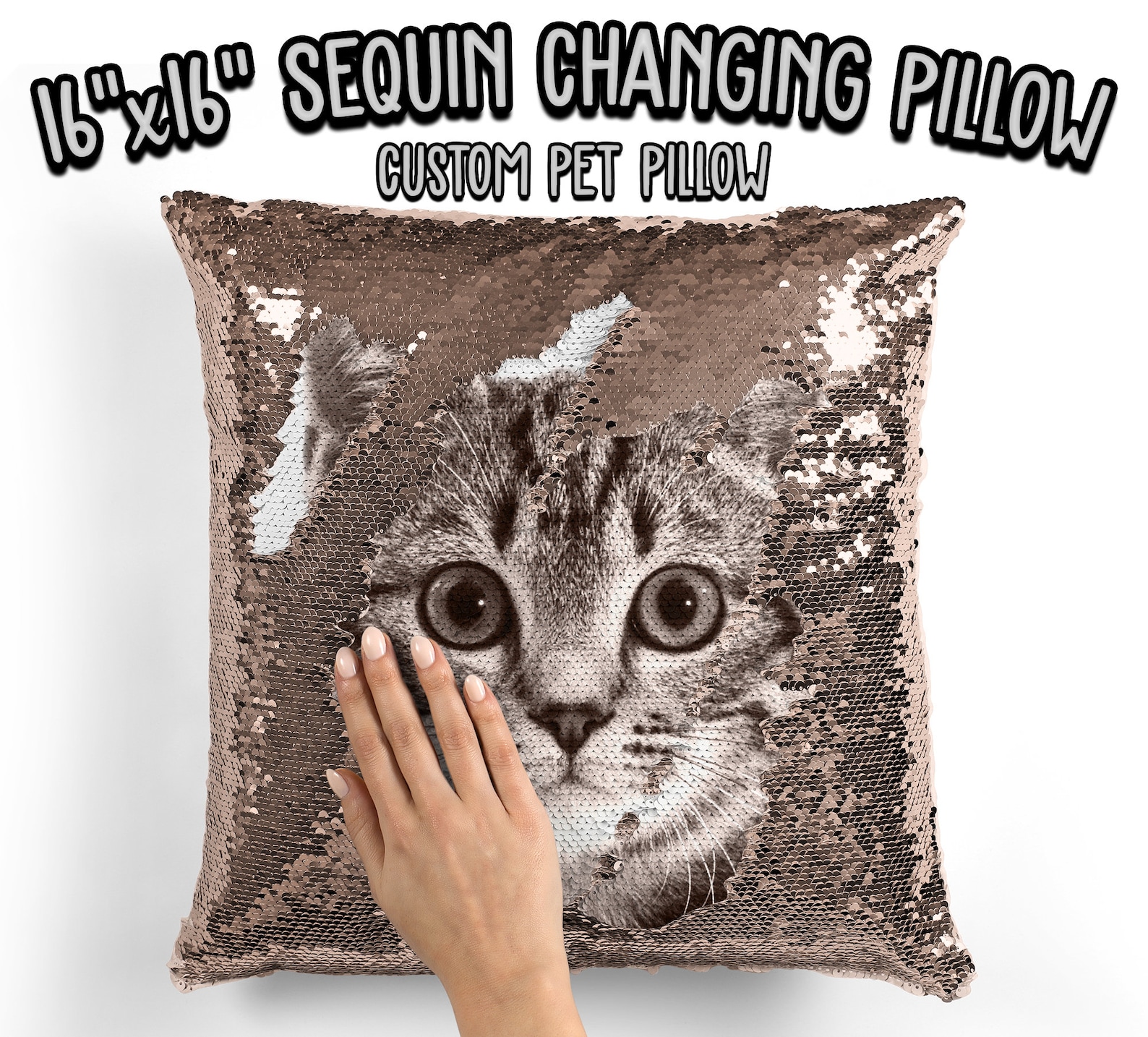 Personalized Sequined Cat Pillow
You know those sequined pillows that are so popular right now — the ones where you rub them and they change colors? You can personalize one side of this 16″x16″ pillow with your cat's photo! You get a choice of colors for the sequin color, and you can opt for the pillowcase only, or pillowcase plus insert. I think this is the coolest idea!
This stunning and decorative 6″x3″ candle has the art embedded directly into the candle. With its gemstone eyes and charm, it's too pretty to light. Which is just as well because if you have cats (especially floofy ones like me), you don't want to have lit candles around anyway.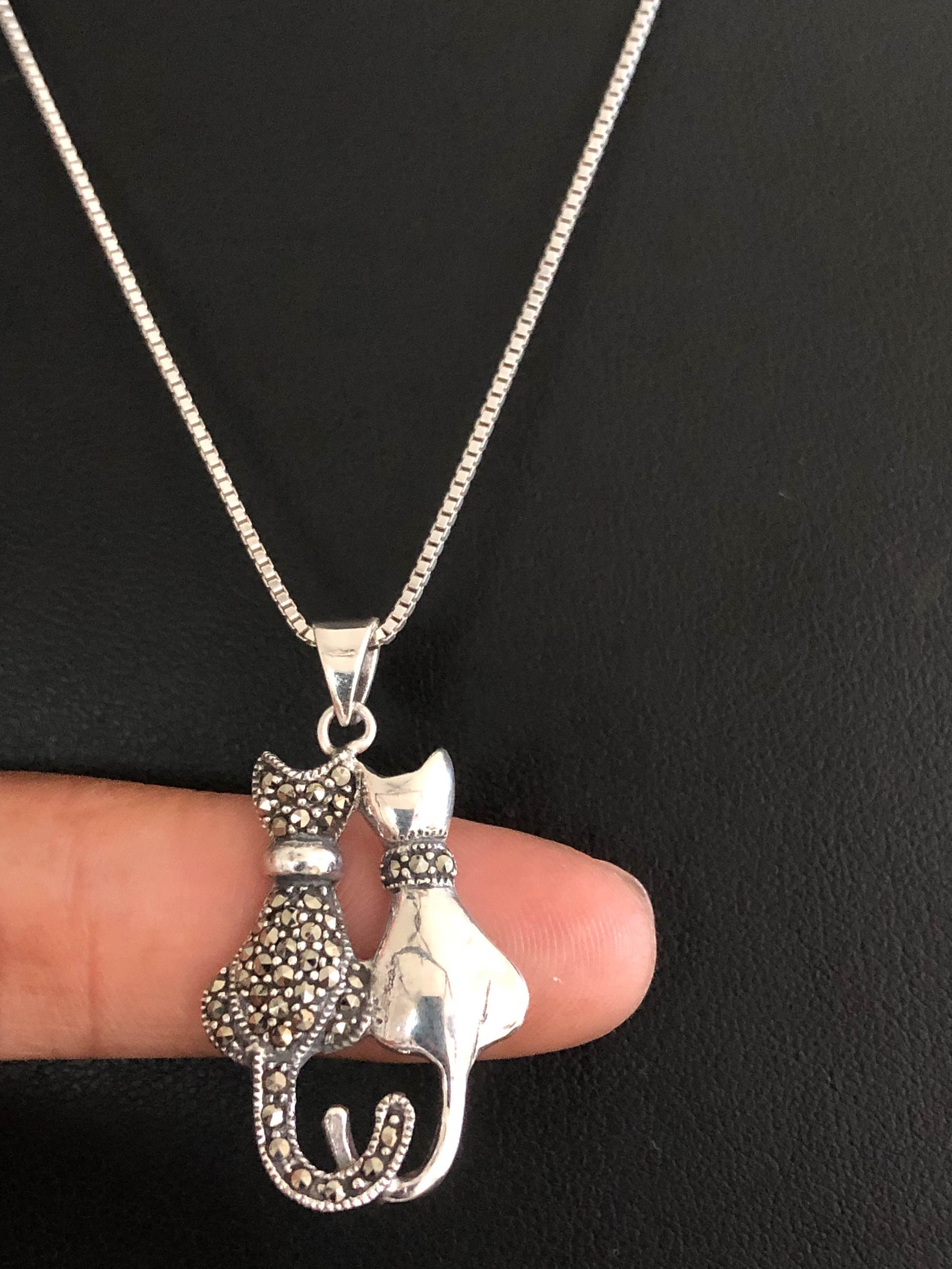 Sterling Silver Marcasite Cat Necklace
This sweet pendant and chain are all .925 silver. The dainty kitty duo is 1.6″ and you have a choice of three different lengths of chain, from 16″ to 20″.
Here is a gift that anyone with a beloved kitty — or several! — will adore. You can have up to 9 charms on this bracelet, each personally stamped for the recipient. One size fits most wrists.
Nearly everyone has a black cat lover on their gift list, and this whimsical 11 oz. mug is perfect for them! It's microwave and dishwasher friendly, and the heat-pressed design will not fade.
This cute polyester kitty hideaway is fun and easy to assemble and clean! It has a sturdy wood frame and is a cozy and cool 15″x12″x14″. Plus it even has a 3-month, 100% money back guarantee!
Felted wool cat beds and cat caves aren't inexpensive, but isn't your kitty worth a splurge? And this one is a really nice design and comes in a selection of earthy tones that will go with almost any decor. They are 100% alpine wool. The regular size is 18″ high (without the tail), and the king size is 22″.
I bet you know which Hogwarts house your cat belongs to… and now here is a 6″x2″ kicker that is just for him! If you have more than one cat, chances are they belong to different houses (even if they both live under your roof), so you can get each of them their own. You can get them with catnip, or without.
I will be honest. Even with your cats' names on these bowls, they will probably try to eat out of the other cat's dish. At least that is the way it would go here. But they are really cute anyway. The listing is for one bowl (if you want a pair, you need to order two). It has your cat's name and either a kitty face or fish. They are 4-3/4″ diameter, and at 2″ high and gently sloped, won't stress out your cat's whiskers.
Your lucky cat can indulge in one of these calorie-free catnip donuts anytime they want. They are actually a nice-sized 4″ around, and you have a choice of the designs and colors you see here. These donuts are literally too cute to eat… but they are fun to kick around!
I hope you liked my picks. Which one is your favorite?
Oh! And remember, I have lots of cool cards and gift items at my Zazzle shop! I'm a small business too… or at least my human is.
Note: We are Etsy affiliates and receive a small commission if you make a purchase through these links.