Well, it's November here in southern California, but it's still in the 70s (and sometimes 80s) during the day! But it's also time to think about holiday shopping, especially if you shop online. So here I am wearing a sweater and posing with my Christmas chalet (the chalet is actually from last year). I also have an Etsy Christmas Gift Guide for cat lovers, and cats, just for you! I hope you find something you like in my picks!
Note: I am an Etsy affiliate and will receive a small commission if you use the links below to make a purchase.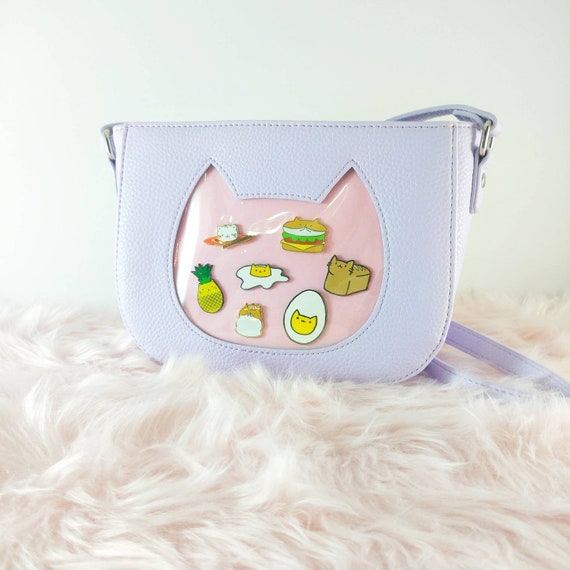 Cat Window Purse
This cute purse has a cat head shaped window where you can display your favorite pins, stickers, keychains, or whatever else you'd like! You can personalize it with special mementoes, or buy some of the pin suggestions from the seller. The bag is 6″ x 7.5″ x 2.5″, which means it will hold your basics, but it's not so big that you'll have to dig for the things you need.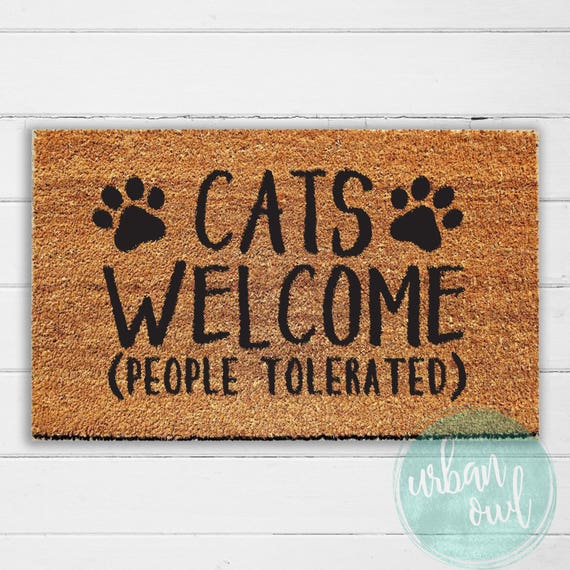 Cats Welcome (People Tolerated) Doormat
I think a lot of you readers will relate to the sentiment on this doormat! The seller also has other welcome messages that I think you'll like too! The mats are made from 100% all-natural coconut fibers — it does a great job of keeping dirt and mud from tracking inside, plus it's also mold and mildew resistant. The back is a durable vinyl material. You can also order the text in a variety of colors.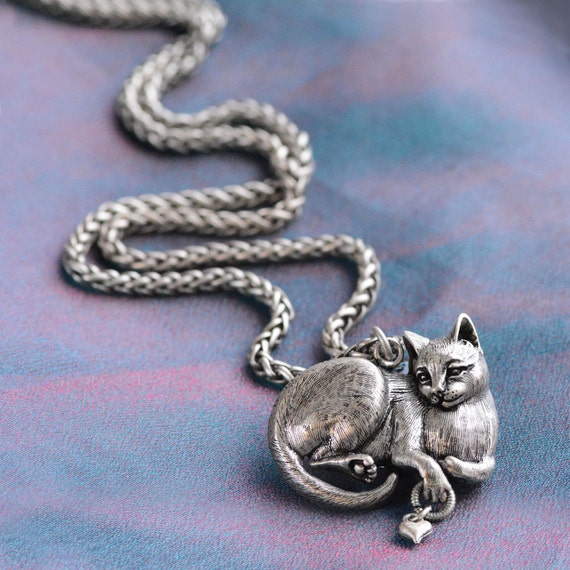 Silver Cat Necklace
I thought this was one of the loveliest cat necklaces on Etsy. The detail is elegant, and the dangling heart charm is sweet. The braid link chain is 26″ long, and like the cat, is finished in layers of gleaming burnished silver.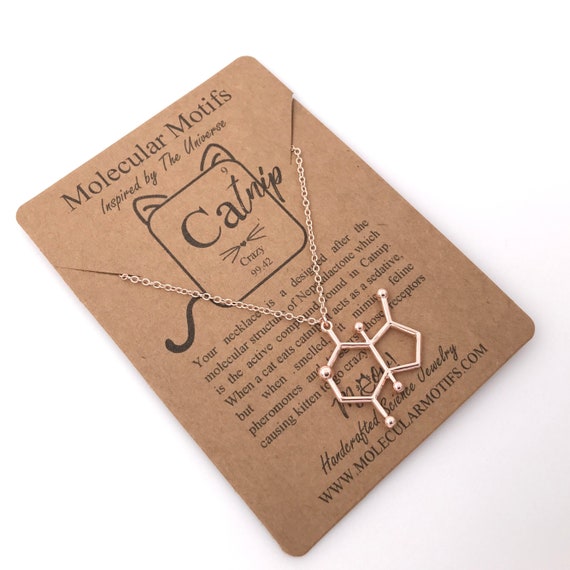 Catnip Molecule Necklace
Here's the perfect gift for a cat-loving nerd! The charm is designed to resemble the molecular structure of nepetalactone, the active compound of catnip! The chain is highly customizable, as far as length, color (silver, gold, rose gold) and material (sterling or plated). You can even add semi-precious gemstones. What a fun and pretty gift!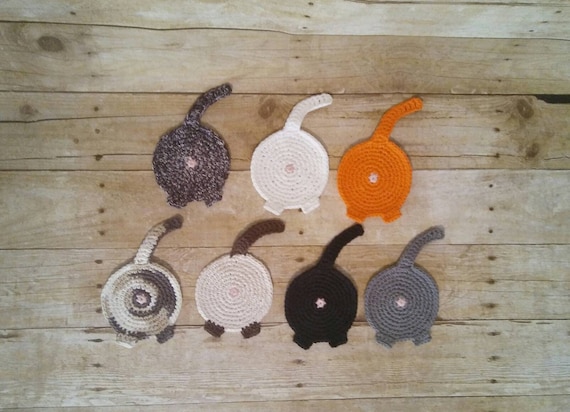 Cat Butt Coasters
Speaking of fun gifts, here is a stocking stuffer type gift that will make cat lovers smile! These coasters come in a variety of cat butt colors and patterns, including calico! They are handmade, and are about 4″ across and 6-1/2″ from feet to tail. There are also cat butt cup cozies, in case you were wondering.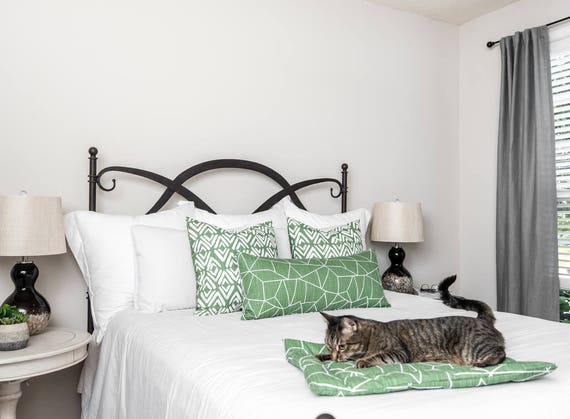 Emerald Green Refillable Catnip Mat
This pretty catnip cuddler comes pre-loaded with two generous scoops of organic catnip. There is a small velcro opening for you to refill and refresh the nip. It's machine washable and dryable. You can get the cuddler on its own, or with a catnip kicker, or with the kicker and a 2-oz. catnip tub! It's an aromatic and comfy gift that will please any kitty.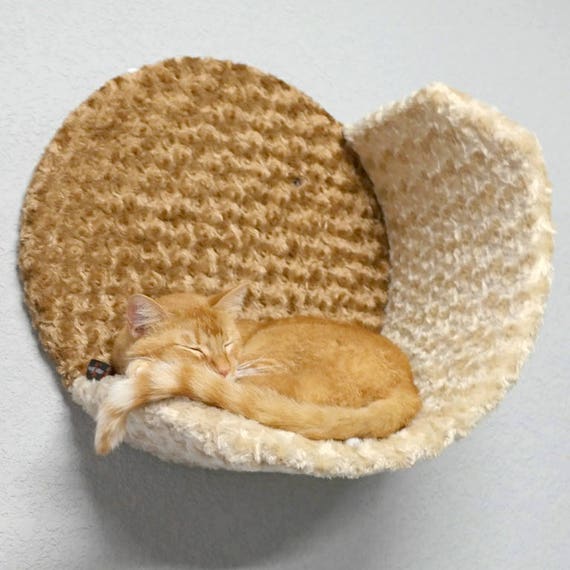 Wall Mounted Cat Cradle
This cozy wall cradle will give your cat have some privacy and a bit of height — a winning combination! It's climbable and soft and contains up to 50% recycled content. It also comes in a variety of colors, to match your decor (or your cat).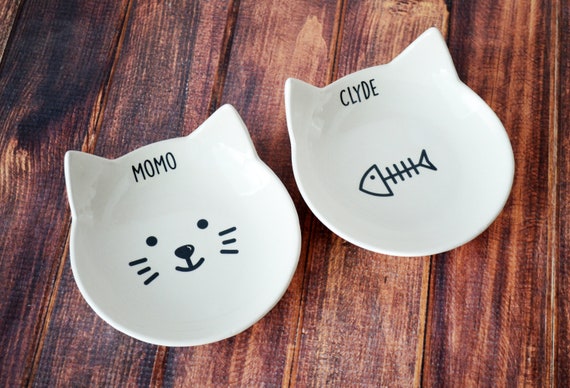 Personalized Cat Dish
These fun dishes are a flatter style, which makes it easier for kitties to dine. You have a choice of the two designs pictured here… or you can get both! And the seller will add your cat's own name. Very cute!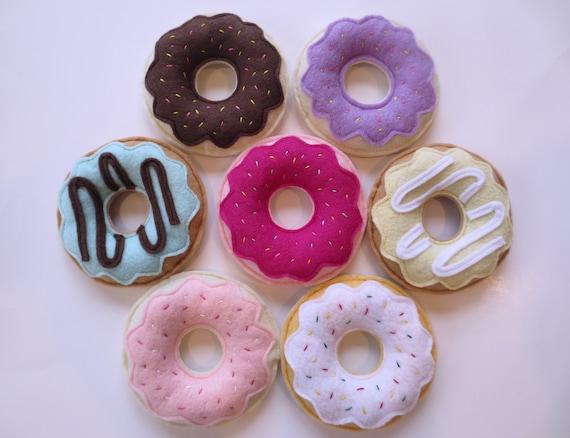 Catnip Doughnut Cat Toy
These 4″ felt cat toys contain polyester fiber fill combined with certified organic catnip — or you can get them plain. They come in a variety of "frostings," are eco-friendly, and machine-stiched (no adhesives), so they are extra-durable! Warning: may make humans hungry for donuts.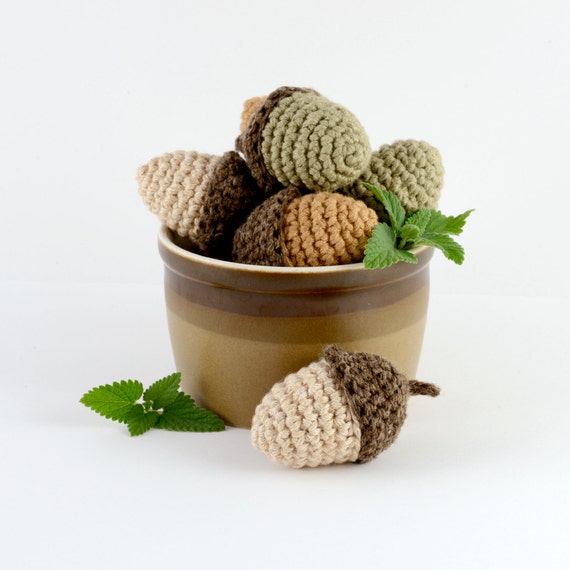 Crocheted Acorn Cat Toy with Catnip, Silvervine or Honeysuckle
Here's something special for cats who don't care for catnip. These hand-crocheted acorn cat toys come stuffed with either honeysuckle wood shavings, or whole silvervine leaves. Of course, you can get them filled with catnip too. Take your pick — or get one of each! The toys are stuffed right before shipping for maximum potency.
I hope you liked my choices! Do you have a favorite? Let me know!