Note: We are Amazon affiliates, so if you make a purchase using any of these links, we will get a small commission. Thank you for your support!
I got so many comments about the cat themed kitchen accessories around here that I decided to put together a list of cute cat things for the kitchen. Unfortunately the Hello Kitty toaster and paper towel rack are so old they are no longer available. (Maybe try eBay?) But I think you'll like the selection I've put together.
Better yet, everything I've listed is on Amazon, and Amazon Prime Day is coming up (June 21 and 22), so maybe you'll get a deal!
For a Clean Cat Kitchen

Cat and Crow Black Metal Paper Towel Dispenser
This cute paper towel dispenser features a cat on birdie watch, and will hold just about any standard paper towel roll.

Kitchen Cat Sink Caddy Organizer
This adorable sink caddy hangs right on your faucet, ready to hold your sponges, soap, and any other small cleaning items. It has drainage holes, and is easy to clean and dry.

Cat Kitchen Sponges, Set of 4 Assorted Colors
These 3-layer sponges have an easy to hold shape and are utterly adorable. What a combo!

White Ceramic Cat Liquid Soap Pump Dispenser
This cute ceramic cat, with its chrome metal pump, is fully functional cuteness! At 7″ tall, it holds up to 12 oz. of liquid soap.

4 Cat Themed Decorative Cotton Kitchen Towels
These absorbent 100% cotton kitchen towels are way more fun than the boring ones my human just bought a couple of weeks ago at Smart & Final. Oh well!

Clean Cat/Dirty Cat Dishwasher Magnet
Even though my human has yet to be pulled into the 20th century (not to mention the 21st), and still does her dishes by hand, you could probably use this! That way, you'll never be confused again about the condition of your dishes.

2 Piece Non-Slip Cat Face Kitchen Rug
There were actually several kitchen rug sets with cats, but this was my human's favorite. The rugs are non-skid and machine washable… as all good kitchen rugs should be.
Cat-Themed Cooking Accessories
Not only are these kitten mittens totally fun, they are fully insulated to protect you from hot plates and trays.
As you may have noticed, we do have these. I will be honest — if you are baking, I would not use these to measure your flour! But when you don't need precision, or if you just want something decorative to hold your ingredients until you need to add them, they are wonderful.

Cat Shaped Measuring Spoons & Cat Timer
Why use your phone as a timer when you can use this kitty timer instead? And the spoons are fun too.
My human has discovered you can never have too many tongs! Which is why I included this set of two. Whether you're tossing a salad, setting out a buffet, or turning your chicken, these paws come in handy… and unlike with regular cat paws, you know where they've been.
My human has a spatula with a skull head on it. I think you would like this one better!

Multifunction Kitchen Cat Utensil Rest
Here's a kitty that'll come in handy! It's a place to put your kitchen utensils and even the lid to your pot while you're cooking. What a handy way to control drips and save space at the same time.
This is possibly my favorite item out of all of them! Of course, it's great for tacos… but you can also use this kitty to hold napkins, dish sponges and more. Plus it's dishwasher safe.
Did you like the cat themed kitchen accessories that I chose? Have a favorite? Let me know in the comments!
Other posts you'll enjoy:
* * *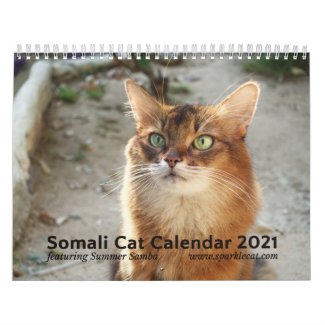 2021 Somali Cat Wall Calendar, Starring Summer
See all of Summer's merch at her
her Zazzle Designercat Shop