I've been hesitating to show off my cat centric Christmas decor picks because some people complain about Christmas showing up too early in stores. But it's mid-November, and even if people aren't decorating yet, they're thinking about it. So here are the fun kitty themed decorations I have for you this year!
Note: I am both an Amazon and Etsy affiliate, so if you visit these sites via my links and make a purchase, I will get a small commission. Thank you for your support!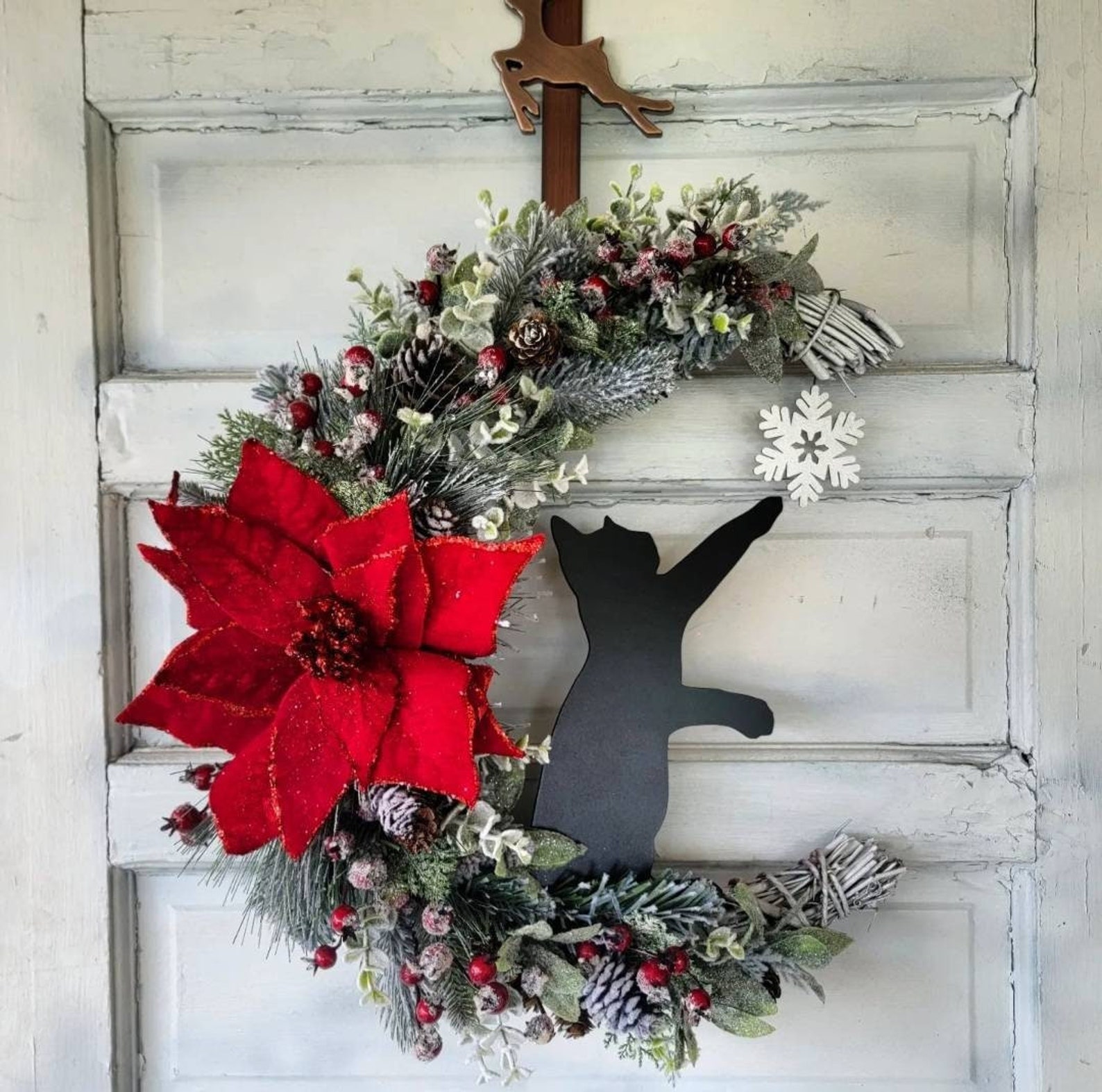 Christmas Crescent Moon Black Cat Wreath
I saw a lot of Christmas wreaths with cats on them, but this crescent moon with its poinsettias and pinecones was my favorite. It's not cheap, but it is made to order with the highest quality materials. You'll treasure it for years to come.

Louise Maelys Merry Christmas Black Cat Garden Flag
Again, there are lots of garden flags with cats on them for the holidays, but I was especially taken with this charming kitty carrying a festive basket. It's the double-sided flag only (the pole is sold separately), and it's a cute and durable 12″x18″.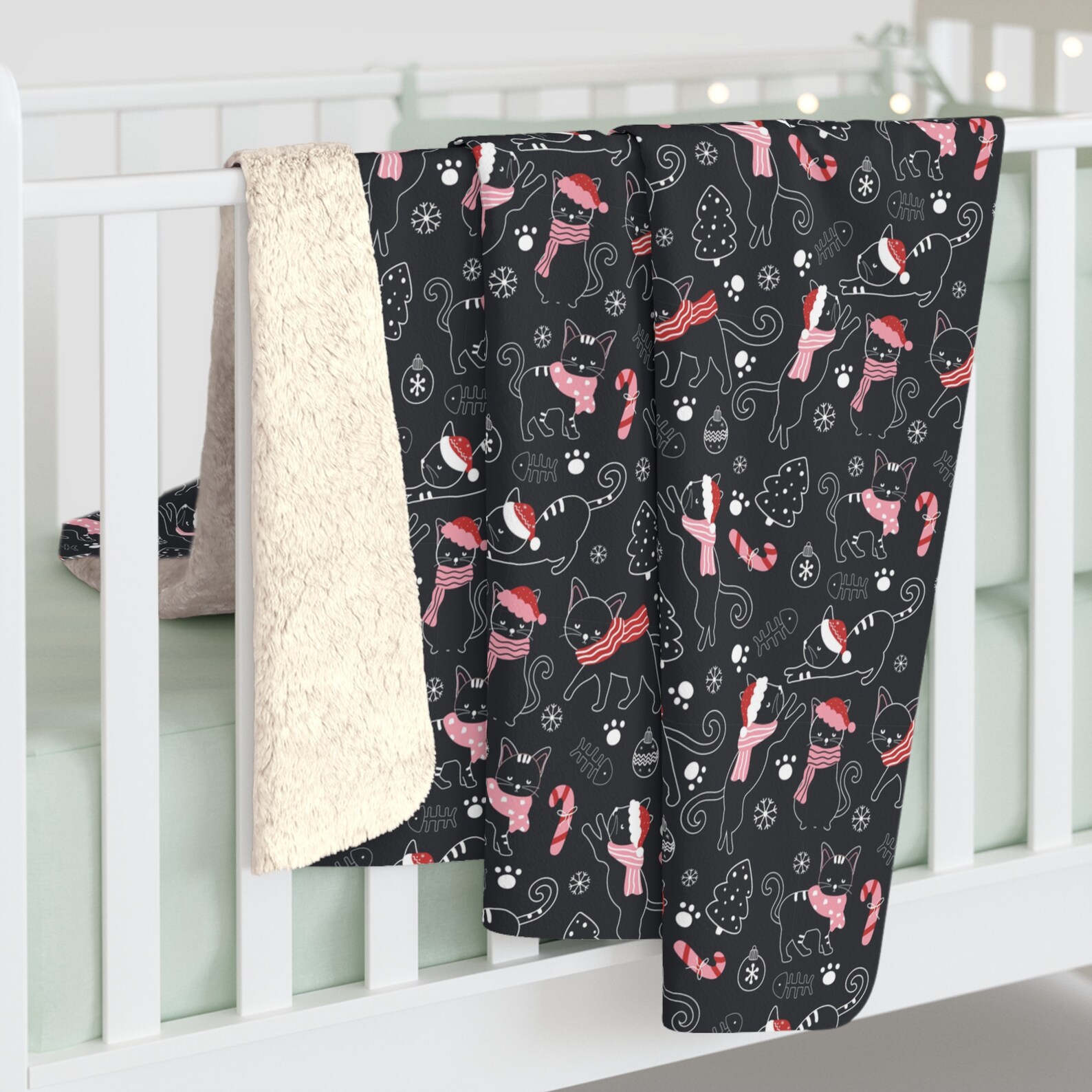 Cute Cat Blanket for Christmas
Get comfy with this cozy fleece blanket. It's a fun Christmas kitty print with a plush backside to keep you warm on cold nights. And I bet your cat will join you!

Whimsical Cat Christmas Kitchen Towels
These funny and fun Christmas towels are premium quality and way, way too cute to just dry dishes! You'll want to use them to bring out the holiday delicacies and hang them on display in your kitchen, if it's a favorite gathering place during the festivities. You get a set of four absorbent, machine-washable towels.

Ultra Absorbent Kitty Christmas Dish Drying Mat
This sweet kitty will bring smiles while keeping your kitchen counter dry. The microfiber absorbs and the extra thick foam will help protect your delicate glassware and holiday dishes.

Christmas Cat Tree Skirt —Reversible!
This cute Christmas tree skirt has a secret hiding underneath it…it is also a Halloween cat tree skirt! You have both holidays covered in one 36″ round indoor-outdoor skirt!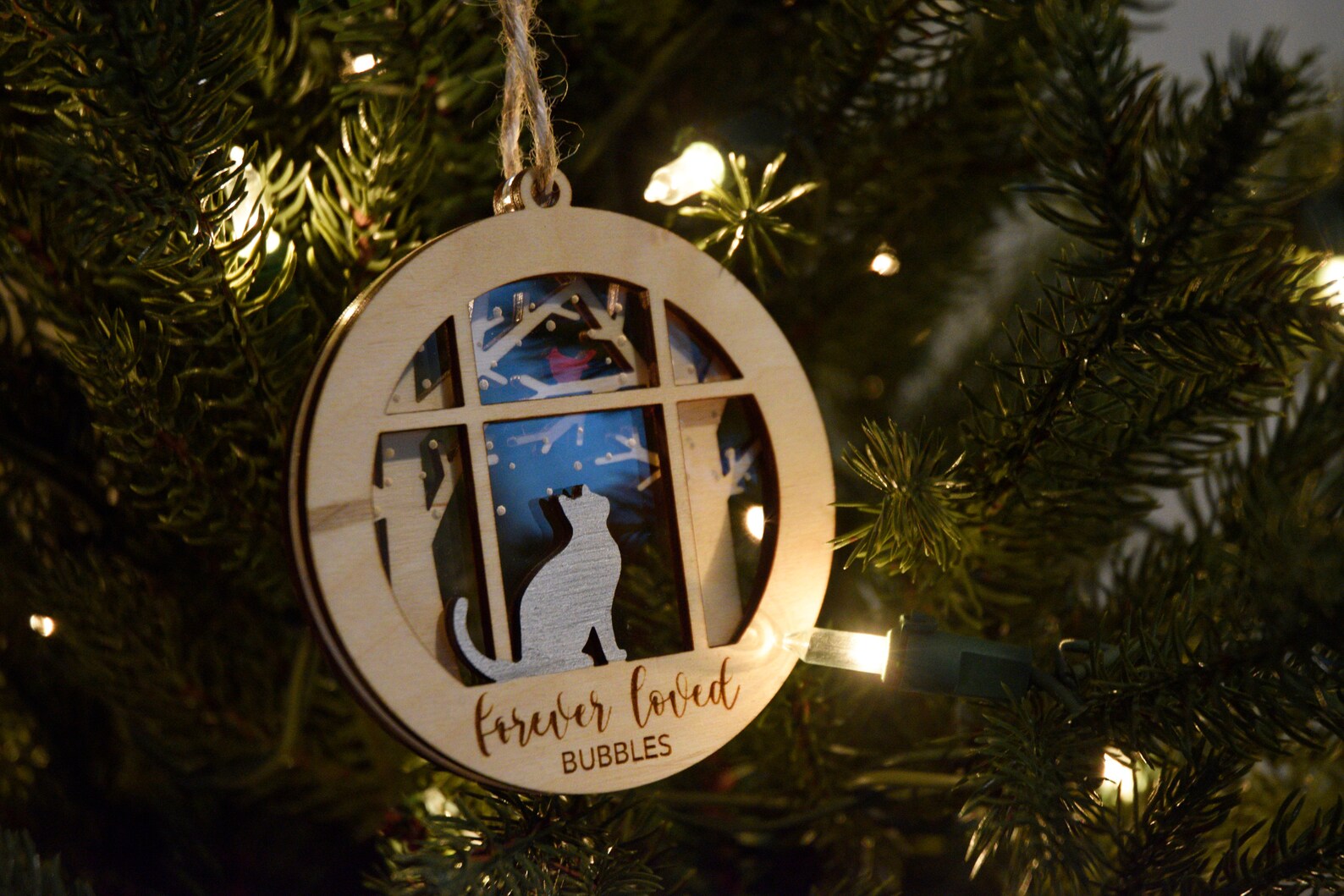 Sweet Cat Memorial Ornament, Personalized
I think this ornament is my favorite of all my finds. Beautifully hand crafted from wood, acrylic and ribbon, it's a personalized memorial to a loved kitty that you'll treasure forever. Full of symbolism and heart.

Christmas Cat Bed
Because what could be better Christmas cat decor than something festive your cat will enjoy?
I hope you liked my picks! Do you have a favorite? Let me know in the comments!