Can you believe it's that time already? Humans are already talking about school stuff! So I've put together my list of back to school supplies for cat lovers a bit early this year. As usual, I've made my choices from Etsy, not only because I'm an affiliate but also because I like to support makers and small businesses. I hope you like what I've picked — I think they're cute and fun!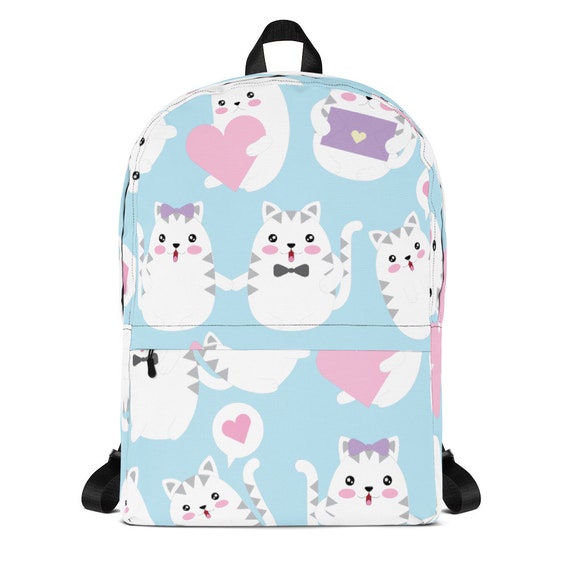 Mawealthy Cats Speech Bubble Love Backpack
Isn't this backpack adorable? At 16-7/8″H x 12-1/4″W x 3-7/8″D, it's a medium size, and made from 100% water-resistant polyester. There's a separate pocket that's big enough to hold a 15″ laptop, several zippered compartments, and ergonomic bag straps. Oh, and did I say it's adorable?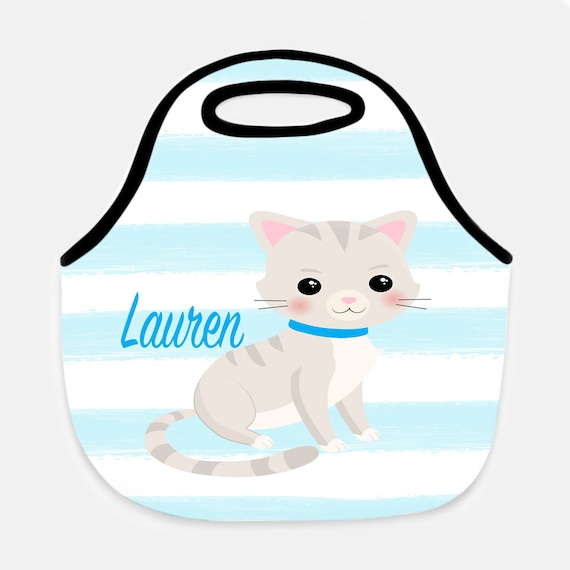 Neoprene Kitty Lunch Tote
This neoprene lunch tote gives you a choice of several different cute kitties and patterns — plus your kid's name (or yours!) printed on the front. It's 11″x11″x8″D, has a zippered closure, and is machine washable. There is also a matching fleece blanket and pencil case too.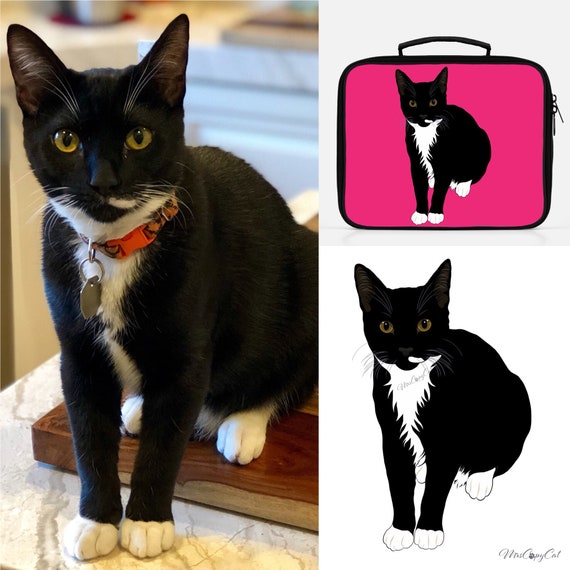 Custom Cat Lunchbox — With Your Kitty's Portrait!
This isn't just a lunch box — it's a work of art! You supply a good-quality photo of your cat, and the artist creates original artwork that serves as a cover insert for this polyester lunch box. It's definitely a splurge item, but so fun and so unique!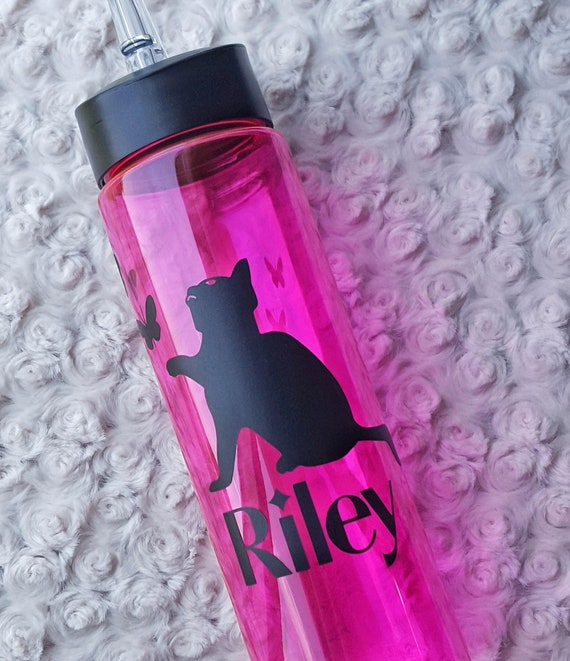 Personalized Cat Water Bottle
This 24-oz. water bottle is made from BPA free, shatter resistant polyester — and not only does it have a cat silhouette on it, you can also add your name! Plus you have a choice of 9 different vinyl colors, and so many color choices for the bottle part that I couldn't even count that high!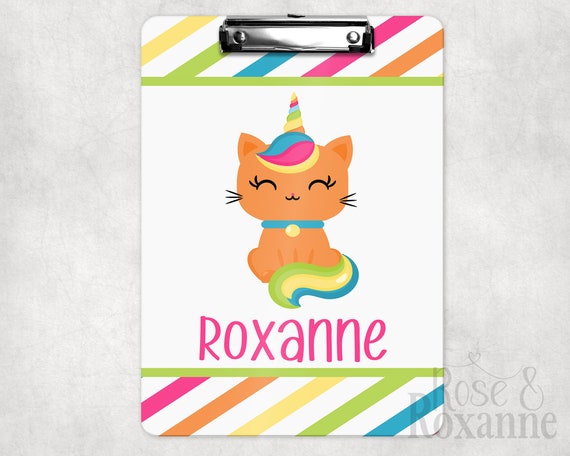 Personalized Caticorn Clipboard
I think this was the cutest clipboard out of all the ones I looked at on Etsy. It's 9″x12-1/2″, with the cute caticorn design and your name or your kid's name. I think it would make note-taking extra fun!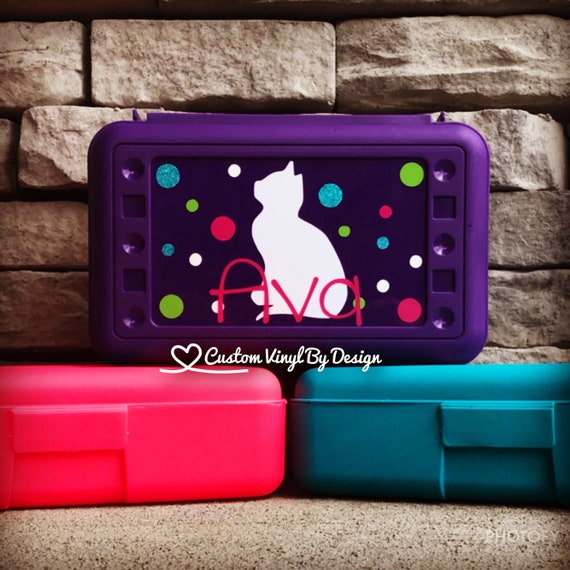 Personalized Kitty Pencil or Crayon Box
I seem to have a lot of personalized items this time around, don't I? But considering the penchant of small humans for misplacing things, it's probably a good idea. With the pretty jewel tones you have to choose from for this pencil box, plus a variety of colors and patterns for the kitty, it will be hard to miss! Your kid's name is just a guarantee that it doesn't go too far. It's 8-1/2″x5-1/2″x 2″ and has a snap top design.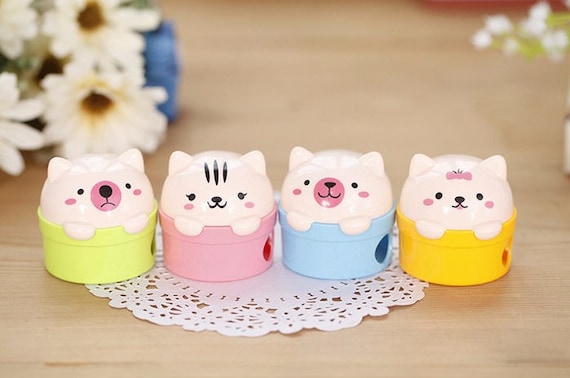 Cute Cat Pencil Sharpeners
I love these pencil sharpeners! Sadly, the pink is already sold out, but you still have a choice between the blue, green and yellow kitties. I think the yellow is my favorite.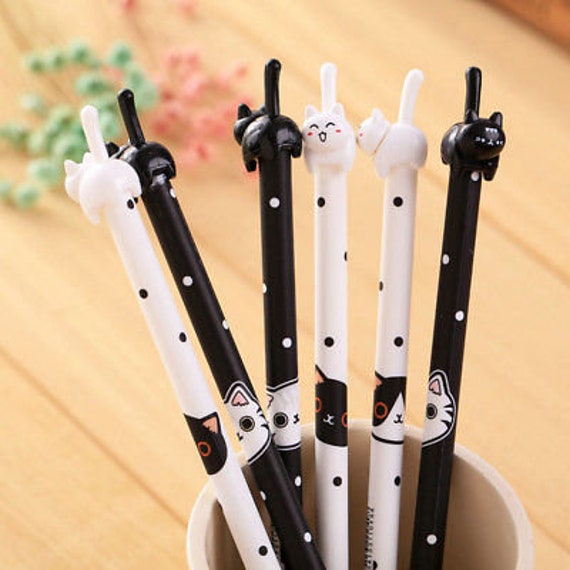 Ballpoint Gel Cat Pens
Made from heavy-duty plastic with black ink, these sweet cat pens actually mean business! Wouldn't you love to take notes with these? You can choose black or white… or a few of each!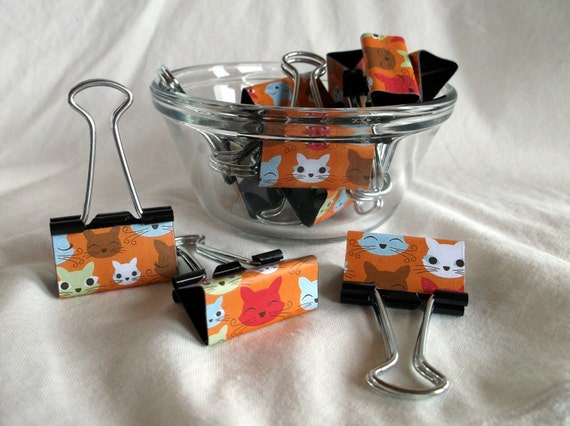 Cat Blinks Binder Clips
I don't know about you, but my human loves binder clips with personality, and these definitely have that! You get a choice of 12 medium, or 6 large binder clips. They also make cute little gifts for a cat lover in your office.
Disclosure: As I mentioned above, I'm an Etsy affiliate, and earn a small commission if you make a purchase after clicking through any of these links.