Yep, the witch hat is out one more time while I show you my favorite Halloween cat items from Etsy! I found some really cool decor, jewelry and even cat toys to celebrate the holiday. I hope you like them as much as I do.
I am an Etsy affiliate, so I will get a small commission if you use one of my links to do your shopping.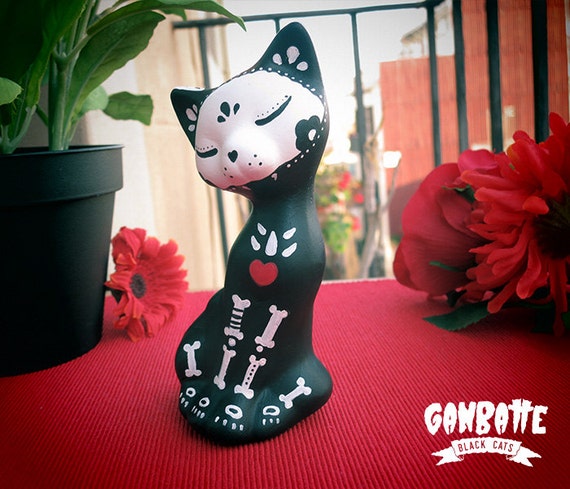 Kitty Sugar Skull Day of the Dead/ Halloween Cat
Isn't this the sweetest little Day of the Dead/ Halloween kitty? It's hand painted and 5-1/2″ tall. Each piece made is unique and signed on the bottom by the artist. She is located in Barcelona, so if you like this, you should get your order in now!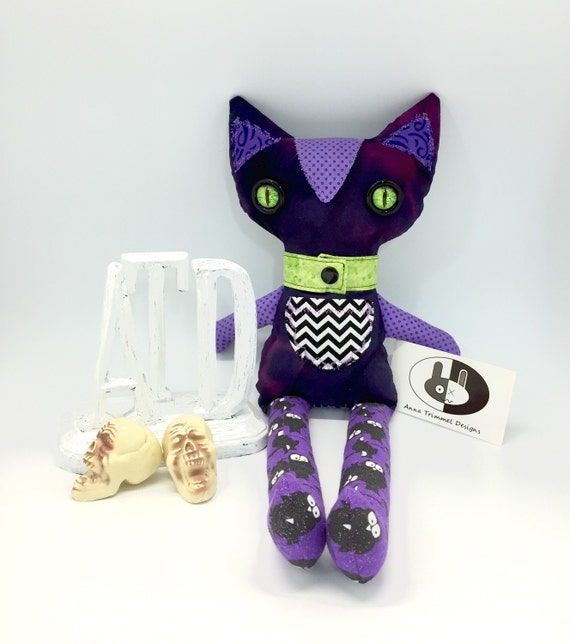 Purple Halloween Cat Plushie
This one-of-a-kind plushie is adorable, and in classic Halloween purple and green. It measures 16″ tall from ears to toes and 6″ wide head from ear to ear. It's hand stuffed with hypoallergenic fill and totally squeezable.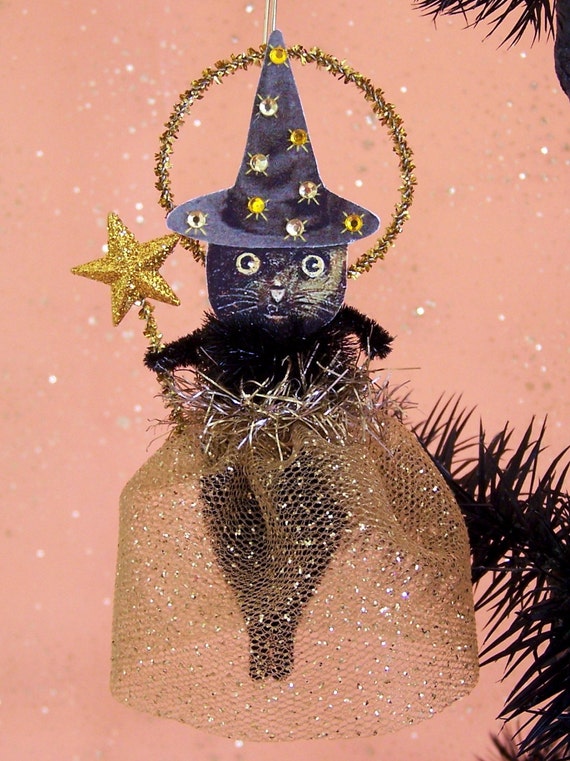 Victorian Halloween Cat Witch Feather Tree Ornament
Do you have a Halloween tree? Even if you don't, you may want to pick out a couple of unique hanging ornaments from this Etsy shop! They are all handmade, one-of-a-kind ornaments with attention to detail and a nostalgic vintage look.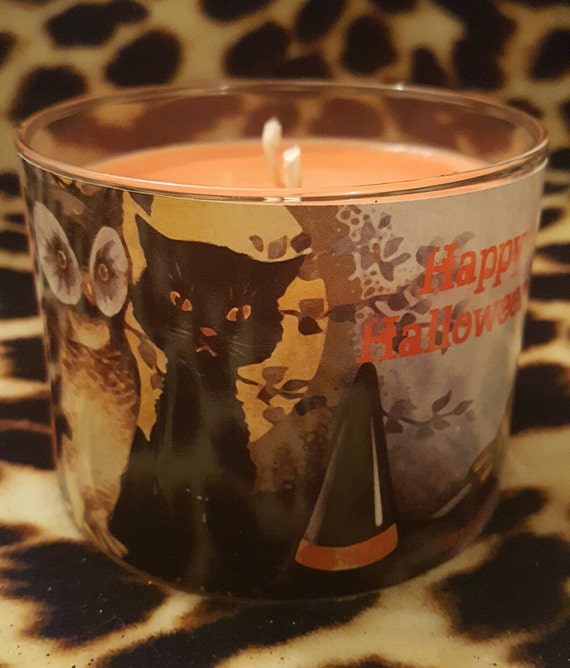 Halloween Cat Candle
This limited edition Halloween Cat Candle comes in a variety of scents — Pumpkin Pie, Autumn Leaves, Apple Maple Bourbon (my human says, "Yum!"), and Cinnamon Sticks. It's a 16 oz. size, double-wicked and will burn for 55 to 65 hours.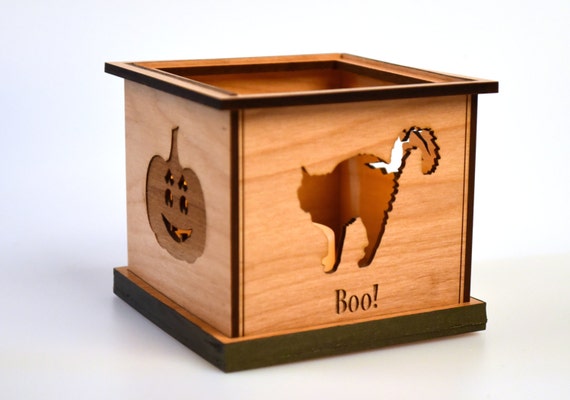 Wood Halloween Cat Lantern
This fun tealight lantern is made from highly sustainable 100% Alder wood, so you'll want to use flameless candles (they're safer for kitties anyhow). The images are laser engraved, and since the panels are made of real wood, the grain will be unique to your lantern.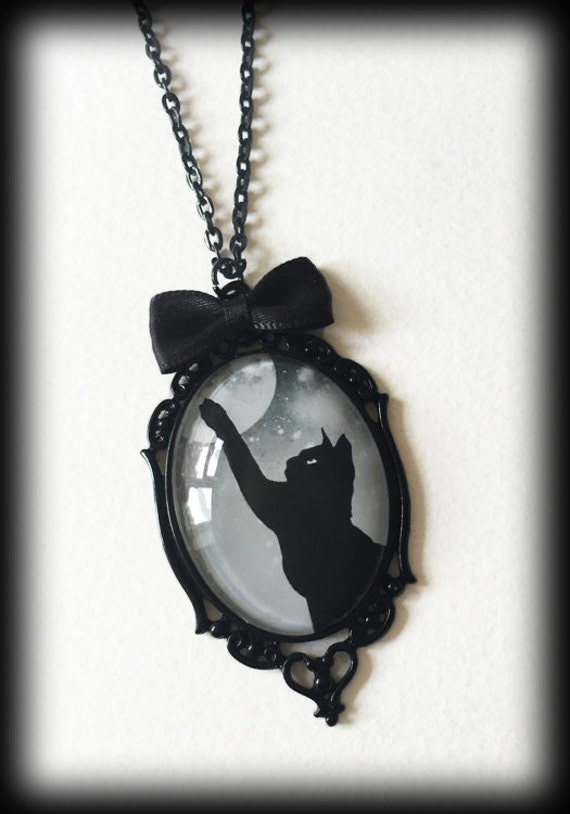 Reach For The Moon Gothic Black Cat Necklace
Do you love this necklace as much as I do? The cool image of the black cat reaching for the moon is set in a black metal filigree oval frame and topped off with a black satin bowl. The chain included is 18″ with a 3″ extender. It's lead and nickel free and ships from the U.K.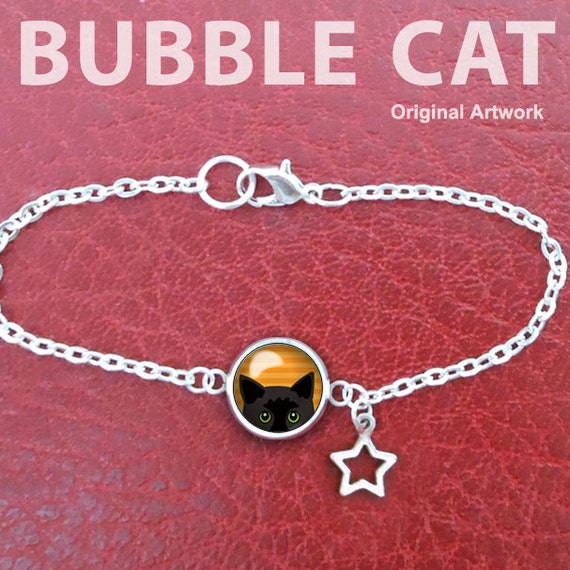 Peeking Cat Bracelet — or Anklet
Here's a cute little peeking cat glass dome that can be ordered as either a bracelet or an anklet, with your choice of charm. Isn't it a sweet Halloween accessory?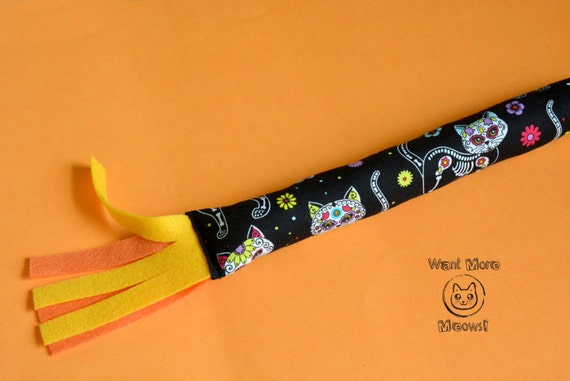 Halloween Catnip Kicker
What kitty doesn't like a good catnip kicker? And this one has a festive Halloween/ Day of the Dead design. There's a bell inside and crinkle paper so it's also pleasantly noisy. It's 10″ long with a 3-1/2″ "tail," so you'll have a lot of kicker to kick!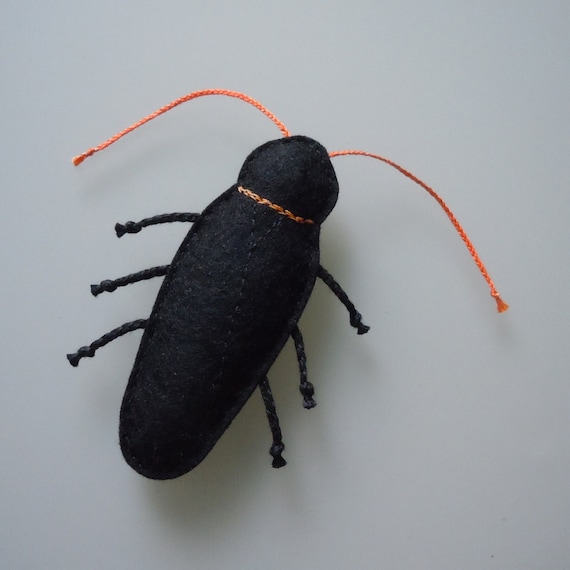 Black Wool Felt Catnip Cockroach Halloween Cat Toy
I bet your human would totally freak out to find a 2-1/2″ cockroach skittering across her floor! But you'll pounce with delight, especially if that cockroach is this catnip-filled wool felt toy! You can use the long antennae to fling it around! A simple cat toy, but so much fun.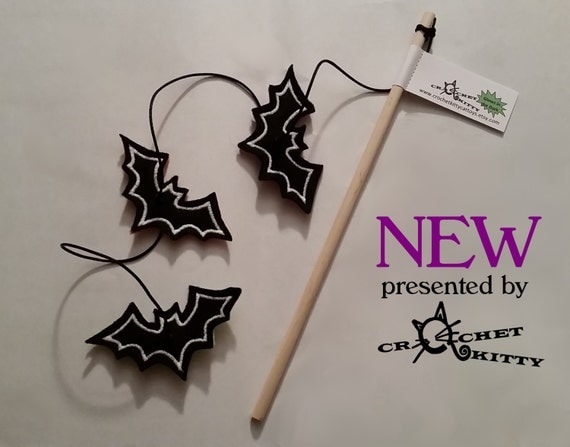 Interactive Bat Wand
These bats will fly through the air and you'll have so much fun trying to catch them! The wand has three embroidered bats knotted onto the string, and they come in a variety of colors — including glow-in-the-dark!

Magical Cats Guard This Home Sign
Finally, this sign makes great Halloween decor… or keep it up all year round! 'Cause you do live with magical cats, right? It's 24″x24″ wood and hand-painted, with a touch of sparkle.