My human is still trying to find a witch hat to fit me — and failing! But I let her put this one on me so I can be festive for today's post. I've put together a variety of cute Halloween Etsy things for you, from decor to jewelry to fun cat toys! I hope you enjoy them.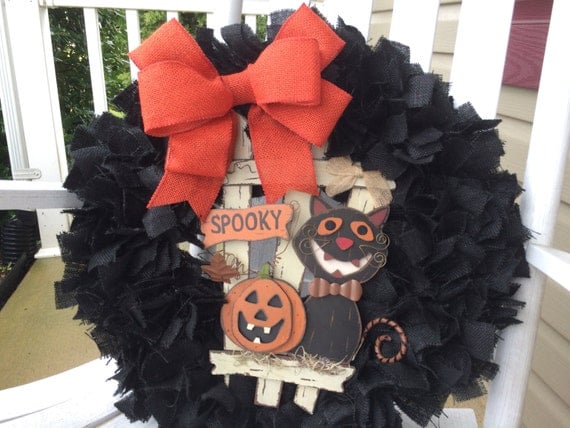 Halloween Rag Wreath
Made of three yards of black burlap, this festive Halloween wreath is fun and not too spooky! From Lynn H Designs.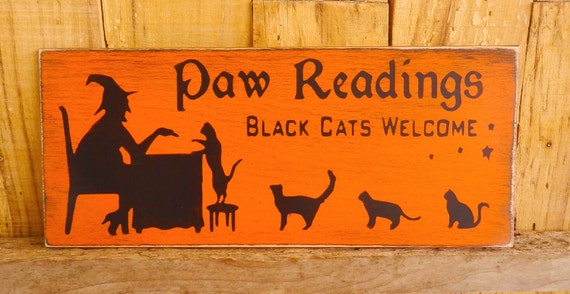 Paw Reading Sign
If your human can do paw readings, color me impressed! At least she can pretend she can, with this 5″x12″ sign made of Baltic wood. Each one is handmade and hand painted, so the one you get will be unique! From Caney Springs Crafts.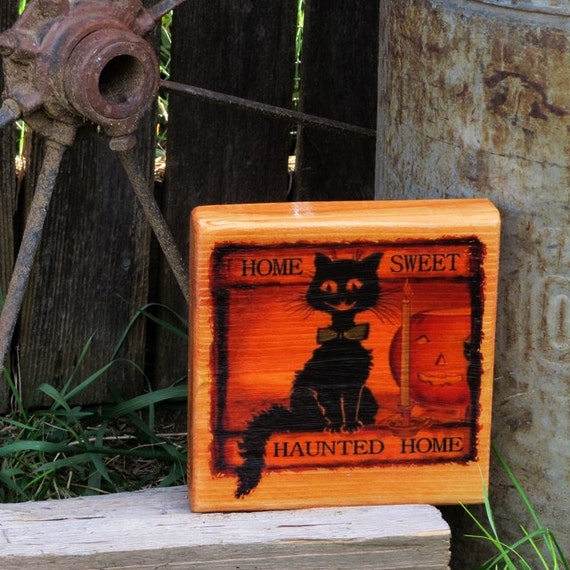 Home Sweet Haunted Home Sign
What a cool wooden wall hanging! It's 10″x10″x3/4″ and thick enough to stand on its own or hang on a wall. Either way, it's got a nice vintage feel. From Meg and Mo's Clubhouse.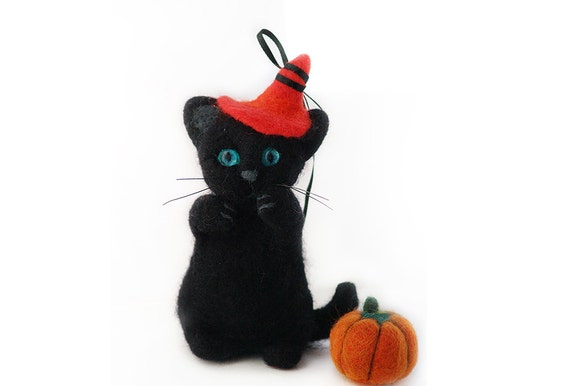 Halloween Needle Felted Black Kitten With Pumpkin
Isn't this one-of-a-kind needle felted kitten adorable? It's 6″ high, so it's actually a good size for a needle felted critter! From Amirali Felt.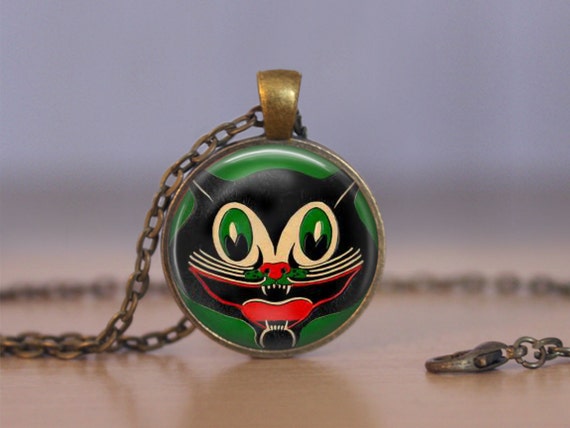 Retro Smiling Black Cat Halloween Pendant
This wild retro cat face looks like it could be from the 1930s, but this pendant with an 18″ chain is handmade by the seller, with the image sealed under a raised glass cabochon with a bronze or silver plated setting. From Cheshire Kitty Corner.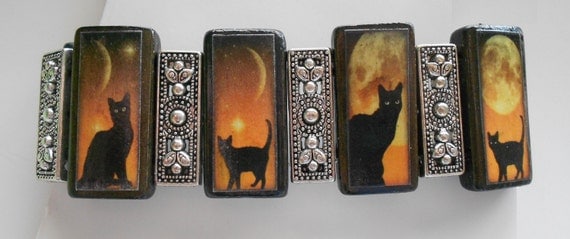 Handcrafted Black Cat Halloween Altered Art Bamboo Tile Collage Bracelet
What a beautiful, unique bracelet! It's made from bamboo tiles and the digital altered art images are protected with several coats of high gloss sealer. Add the pretty silver toned metal spacers and it's a piece everyone will notice! From Altered Tile Designs.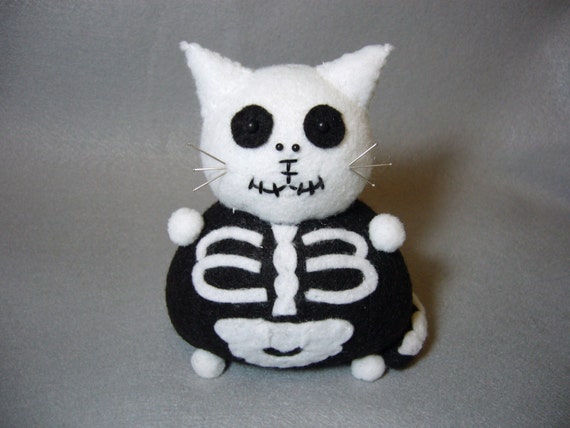 Skeleton Cat Pincushion
I love this little guy! My human is terrible at sewing, but I know it is a craft that a lot of you other humans enjoy. Wouldn't you like having this cute pincushion around while you are working? He's actually a good-sized 5-1/4″ high and comes with 10 assorted pins. From Fat Cat Crafts.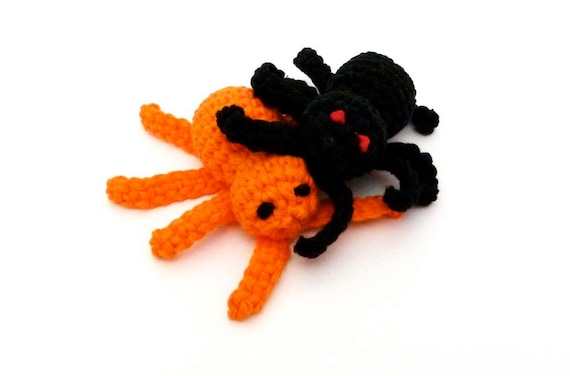 Halloween Spider Catnip Cat Toys
With summer gone and cold weather settling in, there aren't as many real spiders for us kitties to play with, so get yours this set of two spider cat toys! They may even be better than the real thing because they contain catnip! From Cherry Willow.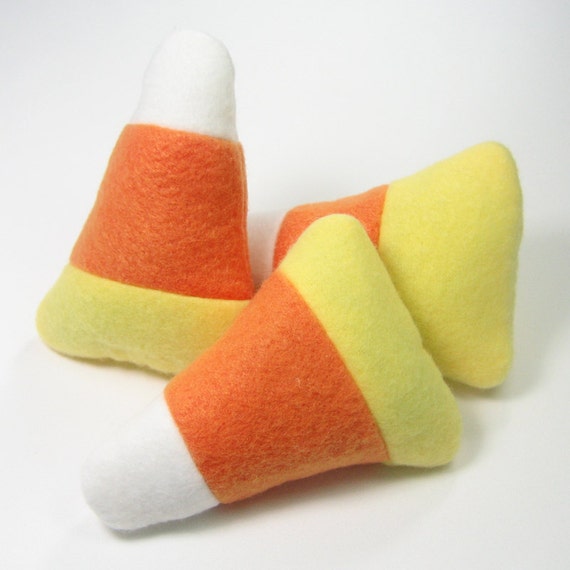 Candy Corn Organic Catnip Cat Toy
Its not Halloween without candy corn, and this version is safe for kitties because it has no sugar, but lots of catnip! Each toy is 3″x2-1/4″ and yes, there is a catnip-free version, for you cats that are designated drivers. 'Cause that's the only reason I can think of foregoing catnip. From Fido the Cat.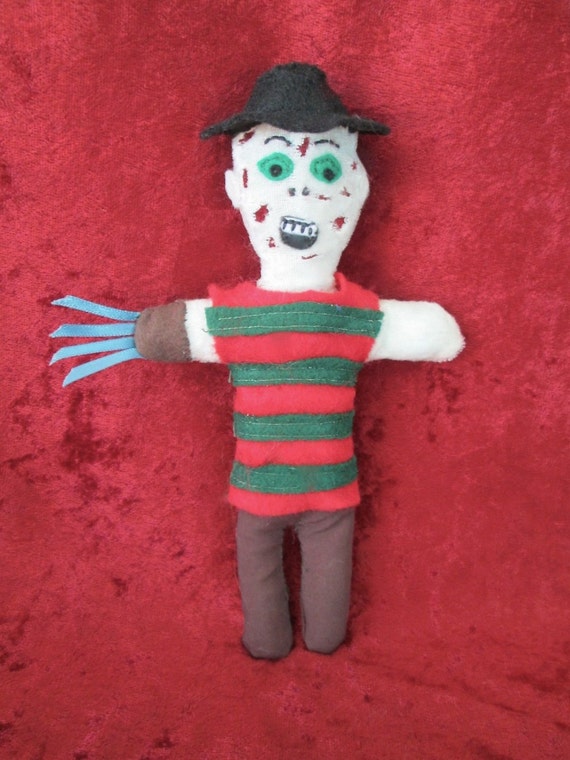 Freddy Krueger Catnip Cat Toy
I think this is my all-time favorite cat toy because it gives us kitties a chance to put that dangerous Freddy Krueger human in his place! Your humans will have no reason to be scared because you are there to protect them. At 8″x5″, Freddy is just the right size for bunny kicking! From Cattywampus Cat Toys.
I hope you enjoyed my picks! Do you have a favorite?
Disclosure: Links above are affiliate links, but I picked out these items because I thought they were awesome!