June is Adopt A Shelter Cat Month, and Binga insisted on taking over the blog and posting before month's end. I think rescuing cats from shelters is an essential part of being a cat lover, so of course I agreed. Here you go…
Did you know that June is Adopt a Shelter Cat Month? And June's almost over! Fortunately, you can adopt a shelter cat year round. I was rescued from animal control in October, 2000. So every month is actually adopt a shelter cat month.
You really do need a shelter cat in your life… and if you already have one, you probably need another one. Here is why — and don't give me any excuses!
Humans are stupid and need feline supervision. Sorry, this is just a fact. Don't even try to argue about this.
Shelter cats are extra smart because most of them have spent time on the streets. We are survivors. Plus we know all the good curse words you only learn in the gutter.
Cats wind up in shelters because of bad people, not because we are bad! You probably already know this.
Shelter cats aren't soft and naive, like the pipsqueak. We know humans better than they know themselves.
You will be a failure without a shelter cat in your life. Guaranteed. You need a shelter cat to be successful. If anyone claims to be a success without living with a shelter cat, they are lying.
You need a routine to keep you grounded — a shelter cat will help you set one up, and hold you to it.
Do you want to live, or do you just want to eke out a sad existence? You had better adopt a shelter cat if you want the former — otherwise you will be tragically relegated to the latter!
Did you know that famous movie star cats and many therapy cats have been shelter cats? So you never know who you might wind up bringing home!
You are saving a life if you bring a cat home from a kill shelter — actually, both the cat you are adopting, and the cat still there that now has room to stay longer and find a home!
So why are you still reading this? Go adopt a shelter cat right now! Or I will bite you.
* * *
---
---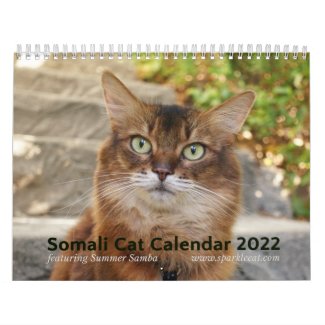 2022 Somali Cat Calendar Starring Summer Samba
See all of Summer's merch at her
her Zazzle Designercat Shop