I will be honest. I love dressing up. It's fun for me, it makes me feel special, and I love all the treats and attention I get. It's one of the many things I do with my human that bring us closer together. But my human feels guilty dressing me up sometimes — because there are not a lot of cats like me! So I am not a good example to follow. More often when you see a cat wearing a costume for Halloween, or a Santa suit for the holidays, they don't look terribly thrilled. Some look downright miserable. I feel really bad for these kitties because they aren't enjoying themselves, and it's not a bonding experience with their human.
From what I've seen around Facebook, and heard from my fellow blogging cats and their humans, most humans have tried to dress up their cats at least once or twice. Usually the results aren't very happy, and the hat or costume is put away somewhere, never to be seen again. (Or at least put away until some other cat gets the opportunity to try it on.) So I decided to put together some tips on when it might be okay to dress up your cat for Halloween, and when it's not.
Never dress up a shy cat. Shy cats have trust issues, and they need to know that you will treat them with love and respect. They don't see being stuffed into a costume as either love or respect. In fact, if you have been working to gain a cat's trust, putting a costume on her may take your relationship with her a few steps back.
No matter how outgoing your cat is, don't force a costume on him. If he struggles while you are trying to put it on, it's not going to end well. You won't get the cute photo you were hoping for, and he will be mad at you. If he is stiff and surly once you get the costume on, get it off immediately. A photo op is not worth ruining your relationship with your cat.
Does your cat roll over and lie down after you put a costume on her? Tempt her with a really good treat — low salt deli chicken, or something that's her favorite. If she gets up for the treat, then she didn't actually mind as much as her behavior suggested. If treats won't get her up, she's definitely unhappy, and you need to take the outfit off her.

Incidentally, this is also how you get cats used to wearing harnesses. You bribe them with treats, or interactive toys.

Hats can be troublesome. See if you can get one that's small enough to fit between the ears, or that looks good just covering one ear. Many cats don't like both their ears scrunched and covered up. The strap should be secure enough to hold the hat on, but not uncomfortably tight. If the cat keeps looking down, tempt him with a treat. If a treat or toy won't inspire him to look up, ditch the hat.
The best costumes for cats are loose fitting and not confining. My taco cat outfit was so comfy, I barely knew I was wearing it. Same with my nurse's dress. The worst ones are those that are too snug, or dog costumes that have a headpiece attached to the body. These almost never fit cats properly, and they are really uncomfortable. Trust me, I know!
The hardest part of having a cat in a costume is getting her to sit still for a photo. My human trained me to sit and stay for treats long before I wore dresses and costumes on a regular basis. So I know what to do. Most cats will want to wander around, chase after treats or toys, and have a hard time sitting still. (This would describe Binga!) You might consider shooting video with your phone instead of taking still photos, if you are just going to post on social media. That may be your easier choice.
How does the cat react after you take the costume off? If he acts like nothing particularly odd went on, and is back to his usual self right away, fine. If he is mad, aggressive, or hides after you take it off, he didn't like it. Toss the costume and make it up to him for upsetting him so much. Again, a photo op is not worth damaging your relationship with your cat.

If your cat wears a collar, instead of a full costume, consider trying some sort of festive collar instead. These won't feel so strange, and are far less likely to upset a kitty.
Cats are really more adaptable than people give them credit for. Some will wear a costume or outfit with no problem, once they gets over the weirdness of the situation. Some won't want to wear anything at all, ever. And occasionally, there are cats like me that are happy wearing costumes from the start, and have a good time dressing up. No matter what type of cat you have, I hope you have an awesome Halloween, and you follow your cat's bidding!
* * *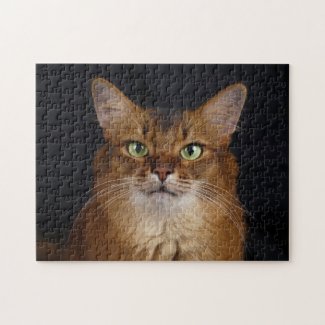 Somali Cat Photo Portrait Jigsaw Puzzle
See all of Summer's merch at her
her Zazzle Designercat Shop