As you know, I am training to be a therapy cat. A lot of humans seem to think this is a big deal, as if it is a very hard thing to do. But I want you to know they are wrong. It is true that going into strange buildings and befriending people you don't know is something not all cats can do. But the therapy part — that's easy. All cats are therapy cats. Yes, even feral cats. Let me tell you why.
We cats make humans feel better by our very presence. Scientific studies have proven the human health benefits of living with a cat, but you don't need research if you live with us kitties. You already know how much better you feel after burying your nose in our fur, or petting us, or just seeing us after a hard day at work. If you live with one or more cats, you already know that we can lift your spirits, ease your depression, or purr you into a better mood when another human has let you down. Many of us kitties will stay close when you are sick, and that is healing in itself.
What makes this type of feline therapy so effective is that humans instinctively know we are a gift to them. A cat does not give her love easily or promiscuously. As animals that are both predator and prey, we are careful about who we trust, and our instincts are rarely wrong. If we choose to offer our affection to you, you know that either you have earned it, or we sense that you need it.
And as I mentioned earlier, even feral cats have the ability to be therapy for humans. People who have undertaken the task of caring for community cats know what I'm talking about, because there is no better feeling than when a formerly frightened cat learns to trust you — and then begins to look forward to your arrival. Even though many feral cats can't be touched physically, they can touch your heart.
So please do not think I am special because I want to be a therapy cat and go visit people. If you are feline, you are also a therapy cat right there in your own home, and your work is more valuable than you may know.
* * *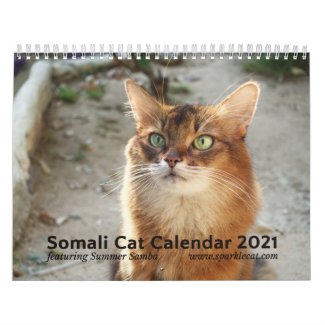 2021 Somali Cat Wall Calendar, Starring Summer
See all of Summer's merch at her
her Zazzle Designercat Shop