Some problems can be solved by a ChipIn widget, or donating supplies like blankets and food. This situation is not one of them. PurrEver Ranch Sanctuary, the Somerville, TN home of 55 cats, many of them senior and/ or special needs, is in a dire situation that only action can help.
For the past two years, the Sanctuary has been living on borrowed time at its current location. The owner died and his widow, an animal advocate, has ignored suggestions to evict Rita, the Sanctuary owner, and the Sanctuary's "kitizens." During this time, the farmhouse has fallen into severe disrepair. The place is virtually uninhabitable for humans, but Rita continues to stay there several nights a week because she is in fear for the cats' lives.
This is where the worst part comes in: there are cat-hating neighbors who not only wish to do harm to the Sanctuary cats — they already have! One neighbor's unaltered dog has killed some of the cats, and others have been shot. Police reports have been filed, but nothing has been done to stop these humans.
Because of the danger the cats are in, Rita has been keeping them indoors, which was never her original intention. PurrEver Ranch Sanctuary was established on 200 acres so that the cats could run free. They are unable to do that now, and Rita is even concerned that somebody will do something evil to the farmhouse the cats live in, purely out of hate.
PurrEver Ranch Sanctuary needs a new home — in fact, they have needed one for a very long time now — and it's crucial that at the very least, the cats get out of this situation as soon as possible. That is easier said than done, since many of these cats are not cute adoptables by any means. Some cats are sick, and the ones that are used to going outside are getting stressed out and ill too. Rita has given a lot of details about her situation on the PurrEver Ranch Facebook page.
As you probably have already realized, there is no easy answer here, unless a big plot of land somehow falls into Rita's lap. And not a lot of you will be able to do much to help. But I am blogging about the plight of PurrEver Ranch Sanctuary in hopes that it will be read by the few humans who can take action and do something, whether it's take in some of the cats or help Rita in some way to protect them and find them all a new home. Please spread the word. It could be that a friend of a friend of yours is the one who will be able to save PurrEver Ranch and its kitizens. There is help out there. The call just needs to reach the right ears.
* * *
---
---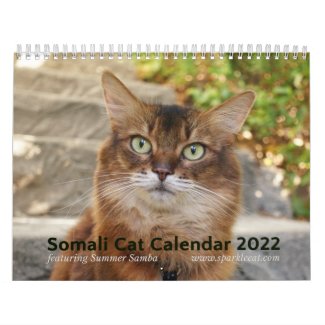 2022 Somali Cat Calendar Starring Summer Samba
See all of Summer's merch at her
her Zazzle Designercat Shop