I have something very serious to discuss with you today — feline dental health! As most of you know, February is Pet Dental Health Month, and I bet a few of you out there are a bit lax about making sure your kitties' teeth are in good shape! Maybe even more than a few of you. But the truth is that the healthier your cats' teeth and gums are, the healthier they will be overall. The inflammation caused by poor dental health can lead to kidney, heart or liver disease. That's true for both kitties and humans!
Because we cats can't perform our own dental routines, it is up to you humans to help. Ideally you should check our gums every couple of weeks, if not more frequently. Check for gum redness (inflammation) around the teeth, see if there are any sores on the gums, and check for tartar on the teeth. Also check your cat's breath. Admittedly, we don't have the sweetest breath in the world, but if it gets worse than normal cat breath, there could be something going on in there. And when you check, you should pull our lips back all the way so you can see our molars, not just the fangs, like my human is doing here. Although I am very cooperative, she had trouble doing it and taking the photo at the same time.
You should also brush your cat's teeth. Most vets recommend this be done at least twice a week, and if you and your cat can handle it, daily. Cat toothbrushes often come as a set with toothpaste at the pet store — or you can use a human baby toothbrush. You can also use a piece of gauze wrapped around your finger — but if you try that, be careful you don't accidentally get bit! When it comes to toothpaste, only ever use toothpaste specifically for cats. Human toothpaste can be toxic for kitties. Besides, cat toothpaste comes in better flavors than human toothpaste, like poultry or beef.
I think teeth brushing time is treat time! Actually, we kitties are not supposed to lick the toothpaste off the brush. We are supposed to let our humans brush our teeth with it. The small size of the toothbrush helps humans reach to those important back molars, and also get those tiny little teeth in front.
I admit, not every cat is like me and will accept toothbrushing easily! But if you persist and make it a routine, many cats will surprise you and allow you to do it eventually. It's best if you start your cat on a dental routine from kittenhood, but anytime is a good time to start. There are other dental health enhancers you can use too, like additives to drinking water, dental treats, or buying chunks of raw meat or chicken hearts for your cats to chew on (I love the latter, and the fact that it exercises my gums and helps keep my teeth clean is a plus). But none of these replace tooth brushing, just the same way, chewing on apples and using mouthwash doesn't replace tooth brushing for humans!
I hope you humans take my words to heart and pay closer attention to your cats' dental health! It will save you money in the long run, because a cat with a healthy mouth won't need as many teeth cleaning procedures at the vet, and will be healthier overall.
* * *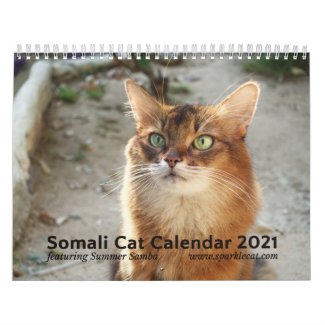 2021 Somali Cat Wall Calendar, Starring Summer
See all of Summer's merch at her
her Zazzle Designercat Shop