My human is a supporter of Kitten Rescue, a local group that is well known here in Los Angeles, and she regularly gets their email newsletter. The most recent one had a sad story: a kitten came to them that had been hit by a car. Unfortunately, the human who had initially rescued her had given her baby Tylenol, thinking it would help her. It was the worst thing this well-meaning person could have done — Tylenol is deadly to cats, and the kitten, named Hope, had to be treated for Tylenol toxicity in addition to having surgery on her shattered leg. Everyone was devastated when Hope died during surgery. While the Tylenol wasn't the primary cause for her death, it certainly didn't help this little girl, who was already weakened by her injuries. (Kitten Rescue established a fund in Hope's memory to help pay for cats who need extensive medical care. You can donate to it here.)
Hope's story made me realize that there are a lot of people out there with extensive (human) first aid kits who may want to help, but don't know that they should never give human medicine to cats or kittens without first checking with a vet. Most of my readers, I know, have done their research, but if you are anything like my human, you know a lot of people who aren't as smart or knowledgeable. So I've put together a list of the most common dangerous human drugs for cats.
NSAIDs (aspirin, ibuprofen, naproxen). Non-steroidal anti-inflammatory drugs may be better known by their brand names Advil, Aleve, Motrin and the like, and humans use them regularly, but they should never, ever be given to cats. They can cause stomach ulcers and kidney damage. There are rare occasions where a vet may prescribe very low doses of aspirin to cats with heart disease, but without a veterinarian's direction, aspirin and these other NSAIDs can be fatal. There are NSAIDs that are feline appropriate, but that is for your vet to prescribe. (Incidentally, not all humans can take NSAIDs either — my human is allergic to them and yes, they could possibly kill her.)
Acetaminophen (Tylenol). This drug can damage a cat's red blood cells and the cat's ability to carry oxygen. It also impacts her liver and as few as two extra-strength tablets can kill her. Keep in mind that you will also find acetaminophen in Excedrin, and in many sinus and cold medications. These are also dangerous to your cat.
Pseudoephedrine. This is another drug found in sinus medications and it will raise a cat's blood pressure and heart rate. Even if your cat gets allergies, please keep human decongestants away from her.
Diabetes Medications. I am sure you humans with diabetes know better than to try to give any of your own meds to your cat, even if she is diabetic herself. A diabetic cat needs close monitoring by both her human and her vet, and only given medication that the vet has prescribed.
Benzodiazepines (Xanax, Klonopin, Ambien). These sleep aids and anti-anxiety meds will not help your overactive, nocturnal cat. Some of them, in fact, can cause liver failure.
Sunscreen. You may not think of this as a medication, but it is a health care item, as it helps prevent skin cancer in humans. Sunscreen ingredients such as zinc oxide, octyl salicylate, ethylhexyl salicylate and homosalate are dangerous if a cat ingests them. So don't hug your cat right after slathering sunscreen all over your arms, chest and face. Yes, you'll get fur stuck to you, but even worse, it can make your cat sick when she has to lick the sunscreen off herself.
This is just a small selection of human meds that are toxic to cats. There are many others, but these are the most likely ones that uninformed humans may give kitties. You can find out more information at the Pet Poison Helpline and at the ASPCA Animal Poison Control page. If you know of a cat who has been given, or who has eaten any of the above medications, don't hesitate — take her to the vet immediately! You can also call the Pet Poison Helpline at 800-213-6680 or the ASPCA at 888-426-4435 — but there will be a consultation fee.
* * *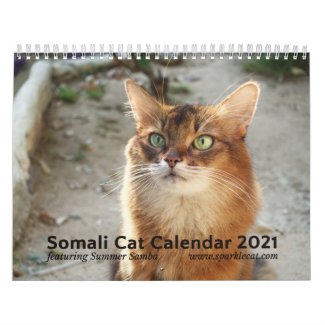 2021 Somali Cat Wall Calendar, Starring Summer
See all of Summer's merch at her
her Zazzle Designercat Shop