We kitties have lots of lessons to teach humans. All of you reading this who have had cats in your lives, or who currently have cats as family members, know this. I bet each one of you could write a book about what you learned! But there are some things humans really need to learn from us cats that you guys seem to have trouble with. And I'm addressing one of them today.
We cats share a lot of emotions with our humans — love, devotion, happiness. Sometimes anger and annoyance. Many of us are as protective of our humans as they are towards us. But one emotion is not part of being a cat, and it's one that humans waste far too much energy on. It's guilt.
Cats never feel guilty over anything. That's because we don't need anyone's approval. Not even from ourselves, because we don't judge our own actions. The only time we feel bad about something that has displeased our humans is when we think we might get punished for it. That's not guilt — that's annoyance, or at the worst, fear. If we do something that winds up having negative consequences, we deal with it (or don't) and move on. We don't feel bad we did it… we may consider it a lesson and not repeat it, but that's about it. We don't dwell on it, or beat ourselves up over it. That would be dumb… a dumb thing only a human would do.
You humans would be better off without guilt too. You either do something or you don't. If it was a bad move, move on and don't repeat it. If you did something that wound up hurting someone else, apologize and make it up to the wronged party. But don't add any extra negative energy to it. Make it simple. Like a kitty does.
Few things take you out of the joy of living in the moment faster than guilt. You're not perfect. But you might be closer to perfection if you stopped putting energy into feeling bad about bad choices. In fact, I think one of the reasons we cats are so perfect is because of our lack of guilt. Think about it. We can enjoy a sunbeam or dig into our favorite cat food without an inner dialogue full of self-judgement. It's so life-enhancing! Live your best life and give up feeling any guilt for a day or so. You may want to make a habit of it.
Are there any other ways you wish, as a human, you could be more like a cat? Let me know in the comments.
Other posts you'll enjoy:
* * *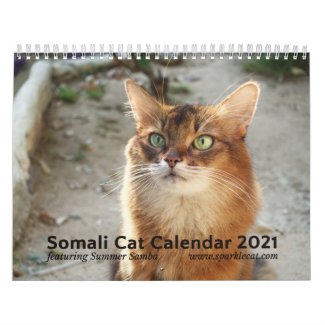 2021 Somali Cat Wall Calendar, Starring Summer
See all of Summer's merch at her
her Zazzle Designercat Shop