In the U.S., this is a big weekend for fireworks. It's also a terrible weekend if you have a pet. Both cats and dogs can be terrified by fireworks. The shelters fill up with pets that have bolted and run off because of the blasts of lights and explosions. So of course you're seeing a lot of articles with helpful tips to keep your cat safe during fireworks.
Some of the most useful tips you'll see are:
Keeping your cat inside. If your cat is indoors-only, this is a no brainer. If you have a cat that goes outside, if there is any way you can keep them inside for the whole long weekend, it's a wise idea. People don't just set off firecrackers at night. If your cat only goes outside on a leash, don't do it over the long weekend. A panicked cat can struggle out of even the most secure harness. And even if they don't manage to break free, they could be traumatized by the loud noises.

As much as possible, fireworks-proof your home. This includes shutting out any fireworks flashes by keeping the curtains and shutters closed; turning on your noisiest air conditioner; and turning up the sound on the TV. Make a safe space for your cat in the quietest, most soundproof room of your house or apartment. Anything that can lessen the sights and sounds of fireworks is helpful.

Stay home with your cat. If you really think your cat will be scared, even if you've taken all the precautions you can, they would feel safest with you there. You don't have to be a total party pooper however. You could have some friends over for a small, pre-fireworks party. And anyone not enamored of fireworks displays can stick around and binge watch your favorite shows.

This is my favorite tip: offer treats and play with your cat to distract them from what is going on outside. Some cats may be too scared during the noisy evening to do this, but others (like me) will welcome the fun times.
But… almost nobody mentions the most important part of keeping your cat safe and sane during fireworks, and that is your own attitude. A lot of people are so worried about their cats during fireworks that they get stressed out about it — and that gets their cats stressed too. If you act like it's no big deal instead, and just make all the preparations routine and maybe even fun, it helps a lot. Just think of this as a great opportunity for you to spend quality time with your kitty. Because, really it is. And hey, you should do it more often, even when it's quiet outside.
* * *
---
---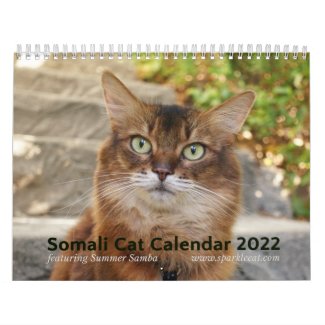 2022 Somali Cat Calendar Starring Summer Samba
See all of Summer's merch at her
her Zazzle Designercat Shop