Did you know that human science is completely different from feline science? It's true — laws of nature that apply to humans do not necessarily apply to cats, and vice versa. Here is something from the feline side you humans might find useful: the Kitty Law of Physics.
Kitty Law of Physics
Two cats together make less trouble than one.
Many times, when humans bring home a kitten or a young adult cat, they are amazed by all the breakage, shredding and general pandemonium that ensues. All cats are quite talented at finding surprising ways to keep busy, and the younger ones often seem to have a special gift for mayhem. The main reason behind this unique ability is… boredom!
Even humans who set aside time each day for interactive play with their cats can't keep them busy 24-7 — that is unless they are unemployed, never leave the house and have as much energy as a kitten. Wow. Think about it — wouldn't a human under those conditions be bouncing off the walls too? But if you cooped up a pair of equally bored humans, most likely they would cause more trouble, causing additional destruction and maybe even teaming up for a life of online criminal activity. But the inverse is true of kitties. Bring a pair of energetic young cats together, and instead of hacking into corporate websites or getting into flame wars on geeky game forums, they are more likely to come up with fun ways to play together that turn out to be less potentially destructive than what they may come up with singularly. Plus two furry balls of energy will wear each other out and wind up getting on their humans' nerves a lot less. Amazing, isn't it?
Of course, this rule does not work out 100% as humans might expect. A pair of cats will still find things to destroy, and sometimes one cat will encourage another to break into the treat cabinet, but there are fewer of these incidents than if there was only one cat. So if you know someone who wants to bring home a kitten, encourage them to adopt two! If the kitties are not already pals, the rules of introduction still apply:
If you want pals, as opposed to a mentor-mentee relationship, the cats should be close in age.
Start off introductions slowly, if the cats don't already know each other, and then go at the cats' pace, not the human's.
When the two cats are sharing space, fun rewards such as treats and playtime should be included.
Make sure there is enough room for each cat to have his or her own space. This can be accomplished by adding cat cubes, and creating vertical space by way of cat trees or carpeted shelves.
There should be multiple litter boxes for multiple cats, and each litter box should be in a place that offers easy escape, not crammed in somewhere where a cat could be ambushed by another cat. Even cats that get along may wind up having arguments sometimes.
And of course, science would be worthless without heart, so remember that when you adopt two cats, you are saving two lives instead of one!
* * *
---
---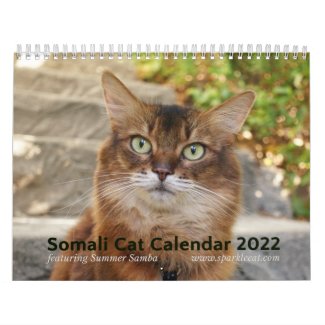 2022 Somali Cat Calendar Starring Summer Samba
See all of Summer's merch at her
her Zazzle Designercat Shop