I know a lot of you are already familiar with the Katris modular scratching system. It comes in a variety of cool mix and match shapes to create a unique and stylish scratching and napping area for us kitties. Plus they are eco-friendly, made with top grade 100% natural recyclable cardboard from 90% post-consumer materials. They are also put together to be extra durable!
I've got some awesome news for you — Katris is about to become more stylish than ever! Up until now, it's featured a neutral color for the side covers, but on August 17, the Katris humans will be launching a Kickstarter campaign to add 3 different color designs so that these modular scratchers will be a standout part of any home decor. We kitties don't notice the home decor thing all that much, but I know it's really important to you humans! Here is what you can look forward to:
The Wood Collection — there are two tones, made from high quality veneer real wood!
The Mono Collection — a goes-with-everything black and white collection made of 100% recyclable paper, formed to be as strong as wood.
The City Collection — look closely at these and you will notice that the colorful pattern is actually an homage to the Katris headquarters in San Francisco! Printed with non-toxic soybean ink and made from the same material as the Mono Collection.
They are all really easy to add to your Katris modules. Check out this video.
If you can't see the above video, click here to watch it on YouTube!
We cats love Katris, so you will definitely want to sign up at this link to be one of the first to know when the Kickstarter campaign goes live, and to take advantage of the early bird specials! And share the news with your fellow cat loving pals, so they can get in on it too!
Disclosure: Katris sponsored this post to spread the word about its Kickstarter campaign and new modular covers — but really, I would be remiss NOT to tell you about this. We are big Katris fans and want to spread the word.
* * *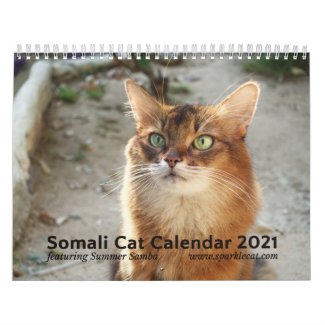 2021 Somali Cat Wall Calendar, Starring Summer
See all of Summer's merch at her
her Zazzle Designercat Shop