No matter where you live, there are probably feral cats nearby. We live 20 minutes from downtown Los Angeles, and we have a few in our neighborhood. There is a new one the humans have seen on our patio a few times, a young calico. She's pretty, but awfully thin, and always runs off when she sees the humans. My human wishes she could help her, but her visits are sporadic enough that she is not sure she could trap her.
Behind every feral cat there is a past that no one will fully know. There is also a future that relies on the kindness of strangers. That is what National Feral Cat Day is all about. The only difference between a feral cat and a housecat is that the ferals are not friendly to humans. They see them as a danger and a threat… and they are often right.
There are a lot of cruel humans around who wish them harm. Some of these people are in positions of power, or are working to keep "catch and kill" the norm for the feral cat population. They don't believe that Trap, Neuter and Return (TNR) works, but they are wrong. TNR stabilizes, controls and over time, reduces feral cat populations. The cats no longer reproduce, and because their colony is managed, they are healthier because they are looked after. They don't carry diseases like rabies because they are vaccinated. If you see a cat with an ear tip, you know that 1) it is a feral, or community cat, and 2) there is someone looking out for her wellbeing.
What can you do to to help? Of course, you can volunteer for a local organization that does TNR, or you can donate to nearby groups, or to Alley Cat Allies, the national organization that advocates for feral cats. Those are the most obvious. But there's more, and if you don't have the time to volunteer, or money to donate, believe me, it is still every bit as important: you can make sure feral cats are safe in your community! How? By being a local advocate for them. Find out what the laws are regarding feral cats in your area, and if TNR is not being promoted, work to make it the norm. Educate yourself so you can speak eloquently and convincingly about the value of TNR and feral cats. The ability of local feral groups to care for the cats in their community relies on good laws that allow them to do so.
To find out more about National Feral Cat Day, visit the official website.
To learn more about helping feral cats, and what you can do, visit the Alley Cat Allies website.
* * *
---
---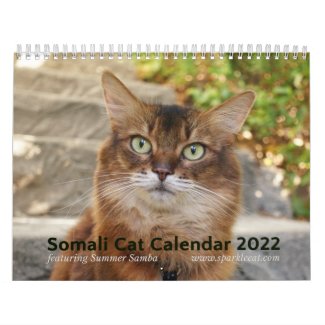 2022 Somali Cat Calendar Starring Summer Samba
See all of Summer's merch at her
her Zazzle Designercat Shop