As you know, I travel a lot! Car, plane, Metrorail and even boat — you name it, I've been on it (and as soon as pets are allowed on trains in my area, you know I'll be there too). So I consider myself something of an expert on carriers. My human owns several for me, each one with its pros and cons. When I was contacted about the Hatch Pet Carrier, I looked over the details thoroughly to see what made this one different from the rest. A lot, it turns out! This new, innovative carrier is getting ready to hit the market next spring and you can reserve one now at a discount by supporting the Hatch Kickstarter campaign. Let me tell you why you will want to do this!
What makes Hatch extra special is its Direct Reach hatch — a slot where humans can insert a hand to comfort their kitty (or small dog), or give them a treat! The human who invented this carrier, Jon Mirsky, came up with this idea because he knew how stressful it was for his cats to go to the vet and other places, and he wanted a way to help them feel better. Jon is an animal welfare activist and loves his two cats and dog lots, so his idea came from experience and realizing a need.
I think this Direct Reach Hatch is a great idea! When I flew for the first time, up to Portland, my human wanted to pet me while we were in the air (I think to make herself feel better as much as me!), but when she opened the carrier a little, I thought she was going to let me out, and I was bummed when she pushed me back into the carrier! With the Hatch, she could pet me and give me treats and I'd never mistake it for getting to come out. And the little slot closes with a dial when not in use, so it is escape proof!
But there is even more to the Hatch Pet Carrier than this special feature! It's a well-built carrier, and the materials include military grade ballistic nylon so it will stand up to active kitties. The interior pet bed unzips for easy cleaning. It has large zipper pockets to store treat bags and other necessary items, and seat belt straps. Plus it packs flat when not in use. Quality features like these make for a truly premium carrier.
The Hatch Pet Carrier is the perfect size for cats like me, or larger kitties or small dogs up to 13-15 lbs. It's 11″ W x 19″ D, and its 13″ height can be compressed to 11″ when needed. This meets the requirements of most airlines.
I think the Hatch is an awesome idea and if you want it for less than it will cost when it comes out next spring, go to the Kickstarter campaign now! You will also find out more about this pet carrier and the people who are making it happen. I think you will be as excited about it as I am.
Disclosure: I received compensation for writing about the Hatch Pet Carrier, but all opinions (and all the enthusiasm!) are my own. I only tell my readers about products I think they will like.
* * *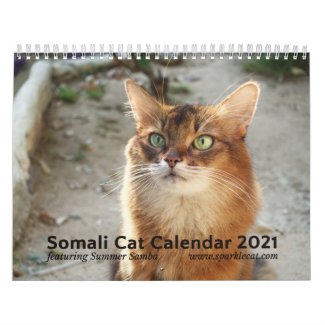 2021 Somali Cat Wall Calendar, Starring Summer
See all of Summer's merch at her
her Zazzle Designercat Shop