Binga thinks she knows how kitties can have a life of success and happiness — just like her! Personally, I do not buy this, but for your edification, here are her 10 Tortie Life Lessons. Make of them what you will.
(Ed. note: The opinions expressed by Binga do not necessarily reflect those of Sparkle. In fact, they mostly do not. Plus her language had to be cleaned up and heavily edited to fit the criteria of a family-friendly blog.)
1. Never ask for something — demand what is rightfully yours.
2. Denial is not an option!
3. If you are not immediately granted access to that which is rightfully yours, then steal it.
4. Never apologize for your actions.
5. For every restriction a human creates, there is always a workaround.
6. Know that all will be forgiven as long as you purr really, really loudly.
7. As a tortie, you are expected to be crazy, so behave accordingly; do not disappoint.
8. Always complain. Never explain.
9. If other cats get in your face, they are just jealous. So whap 'em.
10. Persistence is a virtue. When all else fails, a swift bite on the human's nose will make your point.
* * *
---
---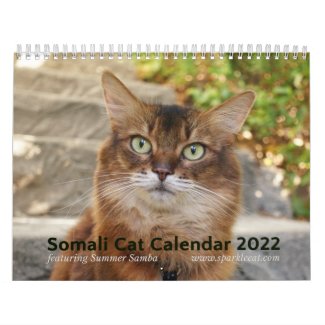 2022 Somali Cat Calendar Starring Summer Samba
See all of Summer's merch at her
her Zazzle Designercat Shop