Remember a few months ago when I got an awesome box set of catnip and valerian from Tabby James? Well, the Tabby James human contacted me recently to ask if I'd like some more… plus have a giveaway on my blog! You can bet I said yes! A few days later I got a package in the mail.
There are three amazingly fragrant jars: regular cut catnip, fine cut catnip and valerian root! Plus a catnip pouch. All nicely packaged.
The great thing about Tabby James' nip is that it is organic and sourced in the Pacific Northwest. You won't find any finer nip to sprinkle on toys (or to marinate cat toys in), or just enjoy on its own. Even better, you can either get Tabby James' fine products at their website, or you can get their gift set like the one you see here on Amazon! That means if you belong to Amazon Prime, your shipping is free!
But enough of all that — it's time to dig in!
Although I think it is mostly meant to be sprinkled, the regular cut catnip is great right out of the jar!
So is the fine cut nip! This one is great to use in recipes for even distribution.
Be careful with the valerian root — you might wind up seeing pink mousies!
My only caution is watch out if one of your family members is a mean drunk.
And you can win your own awesome gift box if you live in the U.S. (because of customs restrictions) and enter my giveaway using the Rafflecopter widget below! For the first entry, just comment on my blog, and say you did on the Rafflecopter widget, and that will unlock a bunch of other ways to enter! The giveaway ends Monday, January 25. Good luck!
* * *
---
---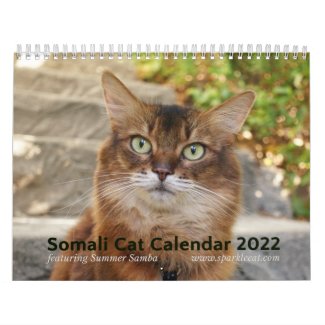 2022 Somali Cat Calendar Starring Summer Samba
See all of Summer's merch at her
her Zazzle Designercat Shop