Our (not so) little community of cat bloggers has been hit especially hard by cancer this year, so it's even more important for us all to show solidarity and support. This is the perfect time to take a short break and purr for a cure….
Are you back? I have something special to share with you: a video that shows that we cats do have healing power. Even though we are not scientists and can't cure cancer on our own, we can help heal a human's spirit and encourage her to focus on getting better. Research has proven it:
If you can't see the video above, click here to watch it on YouTube.
Doesn't Luke remind you of a certain popular blogging kitty? (You know who you are!) And remember — October is also Breast Cancer Awareness Month!
* * *
---
---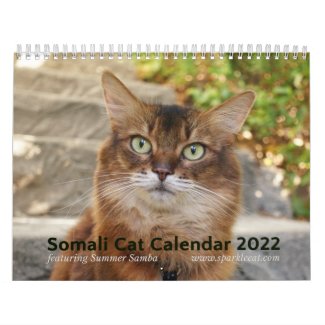 2022 Somali Cat Calendar Starring Summer Samba
See all of Summer's merch at her
her Zazzle Designercat Shop