Of course cats all have staff — food preparers, restroom attendants and such. But when you are a celeb-kitty, you need more help for all the duties you have. Even though I am not a huge celeb-kitty (at least not yet!), I've found there are still a lot more job descriptions my human needs to fulfill. I should probably hire a couple of extra humans to help out, but our budget is limited.
Here are just some of the jobs humans need to do for celeb-kitties:
Personal Shopper
I think all kitties have personal shoppers, but a celeb-kitty's needs are more complicated and require a more trained eye. My personal shopper needs to gauge whether an outfit will fit me, even if I am not accompanying her.
Wardrobe Mistress
When you have an extensive wardrobe like I do, you need a wardrobe mistress. Sadly, my human is not very good at organizing my clothes. But at least most of them are in one place. Oh, and it's also good to have someone there to try on clothes for you.
Stylist
For photo shoots, you need someone to make sure your outfits look right. My human is not always the best at this either. But she usually realizes her mistakes before the session is over.
Bodyguard
Because of my therapy work and public appearances, a bodyguard is an absolute necessity. My human is always keeping an eye out to make sure no improper touching goes on.
Social Secretary
Celeb-kitties also need someone to keep track of all their personal appearances. And I have quite a few every month, if you count all my therapy cat visits, and usually at least one or two cat shows.
Activity Supervisor
A celeb-kitty needs to stay in condition, so regular activity sessions are a requirement!
Coach
This is completely different from activity supervisor. This is focused training to keep up my skills at doing tricks. A coach needs to make sure that not only are you keeping up your practice, but that you are constantly learning and being challenged.
Procurer
The less said about that, the better.
What other staff do you think celeb-kitties need?
* * *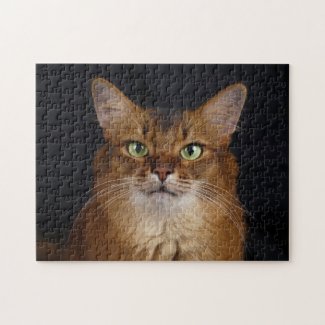 Somali Cat Photo Portrait Jigsaw Puzzle
See all of Summer's merch at her
her Zazzle Designercat Shop