I am supposed to tell you all about the new premium cat food from Whole Foods Market today. It is called Whole Paws®… but I don't seem to be getting a whole lot of help here!
Sheesh! Well, this is what happens when you have to work with amateurs.
Although perhaps I shouldn't say anything about amateurs since none of the kitties on the cans or bags of Whole Paws® food are professional models! They are all real pets, and their names and ages are right on the labels.
The food inside the cans and bags is real too — real meat with no by-products. No grain. No soy or corn. Wholesome proteins like chicken or salmon are the first ingredients listed on the packaging.
Not only is a wholesome diet important to kitties, it also matters to our humans! Did you know that 79 percent of pet owners think the quali­ty of pet food is as important as the quality of human food? I imagine the other 21 percent are like my human, who believes the quality of our food is more important than what she eats! You would not believe the junk she brings home for herself. But when it comes to us kitties, she is very particular. She spends a lot of time reading labels and money buying us high quality food at pet stores. A lot of which I shun, which means she gets to spend even more money. The Whole Paws cat food, being Whole Foods Market's own label, is reasonably priced compared to some of the other premium brands out there — and if your human shops at Whole Foods Market regularly, she can pick up your food without having to make an extra trip to the pet store. So if you are used to buying premium food for your kitties already, you might want to give Whole Paws a try!
And we'll be giving this a try and telling you about it in a couple of weeks! Binga is not happy about having to wait. How come my human never gets the blame?
Disclaimer: I have written this post on behalf of BlogPaws Pet Blogger Network for Whole Foods Market. I am being compensated for helping spread the word about Whole Foods Whole Paws, but at sparkecat.com, I only share information I feel is relevant to my readers.
* * *
---
---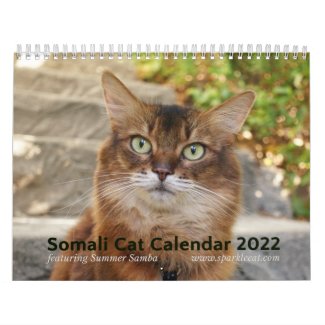 2022 Somali Cat Calendar Starring Summer Samba
See all of Summer's merch at her
her Zazzle Designercat Shop