A guest post by Amber Lulu PawPaw, in association with Petplan
For a cat, there is nothing scarier than being ill. (Yes, it is even worse than an empty food dish!) I remember all too vividly the time I became horribly sick after chewing on something I shouldn't have. I felt awful but even worse, I couldn't tell my human what was wrong. She kept looking at me and trying to figure out what had happened but unfortunately the message wasn't getting through.
I began to worry my bad judgement would be the last of me, and that's when she took me to the vets — the only humans who actually seem to understand our pleas and cries. The treatment I received had an almost magical effect, and before long, I was back hunting my favourite catnip toys, much to the delight of myself and my owner.
So you can see how I gained such a positive view of my vet. You've got to admit, whether it's routine injections, diagnosing problems or performing operations to put things right — they're always there. Sure, we may not be thrilled with the procedures at the time (who likes that awful medicine they give you? And let's not even discuss having our temperature taken!), but it really is for our own good. One of my feline friends was rushed to her vets after she was hit by a car, and they worked round the clock to save her life.
So I am one cat who does think this level of care and dedication deserves recognition — and it seems Petplan agree with me! They set up the Petplan Veterinary Awards which let U.K. vets, nurses and support staff know just how good they are. The awards began in 1999, and Petplan has been around for nearly 40 years now.
There are plenty of categories to nominate your vet for, including:
Practice of the year
Vet of the year
Vet Nurse of the year
Practice Manager of the year
Practice Support Staff of the year
Three finalists will be selected for each category and subsequently invited to the awards ceremony, to be held in April 2014. The winners will be announced at this awards ceremony.
If you kitties in the U.K. want your vet to get a chance to win, then have your human click here to nominate either a practice or a particular individual. They can provide specific details of how this person or practice has stood out to give them a better chance of winning.
Pets all over the U.K. are nominating their vets! Check it out:
If you can't see the above video, click here to watch it on YouTube!
These awards give us a way to recognize those who do so much for us, but who very rarely get any thanks. In fact, when we kitties are scared, we wind up leaving them with nothing but bite marks and scratches to show for their kindness. And the truth is, the vets and their staff are really just trying to help us feel better and stay healthy. So this is how you can give them a proper thank you. I know I'll be getting my owner to nominate our local vets — what about you?
* * *
---
---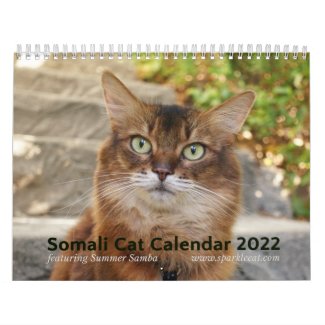 2022 Somali Cat Calendar Starring Summer Samba
See all of Summer's merch at her
her Zazzle Designercat Shop