"There's an app for that" just got a little more awesome if you are a kitty! The Kittyo is a device that can keep us cats from getting too bored when humans are out of the house. It is only 7″ high, but with the help of an app that has versions for both iOS and Android smartphones, it does a whole bunch of different things for us kitties:
It makes noises to attract your cat — or you can use it to speak directly to your kitty (although recent scientific tests question how much your cat cares about your voice).
It has a laser pointer you can direct remotely! Boodie would love that.
It dispenses treats! Which worries me a little — Binga may never leave it alone! (But the Kittyo humans have thought about cats like Binga: it can easily be clamped to a shelf or attached to a wall to keep treat stealers at bay.)
Humans can watch their cats remotely with the Kittyo, and they can also shoot video and photos!
While the last item makes me a little suspicious — I am not so sure I want my human spying on me while she is not here — the other fun uses the Kittyo has are really appealing! We kitties can make our own fun when you humans are not home, of course, whether that's breaking into the treat cabinet, getting on the counters or scratching the furniture when we know we won't get yelled at. Will the Kittyo stop this from going on? Probably not, but it will give you humans something I know you've always wanted: a connection to your cats when you can't be at home. Because we know how much you miss us when you are at work, or have callously packed your bags and left us for days or a couple of weeks. Here is a way you can have fun with us even when you are not around, and it is way better than having the pet sitter put you on speakerphone so you can chatter at us from afar. This is a technological innovation that, while it won't replace your pet sitter, will make that silly trick obsolete.
Look for the Kittyo in 2014! If you sign up now, you will be notified when the Kittyo is available for purchase — and you'll get an introductory price discount on Kickstarter! (Yes, you can actually buy things on Kickstarter — I didn't know that either.) Sign up for the Kittyo list here.
Note: I was compensated by the Kittyo humans for this post, but nobody tells this kitty what to say — all opinions are my own.
* * *
---
---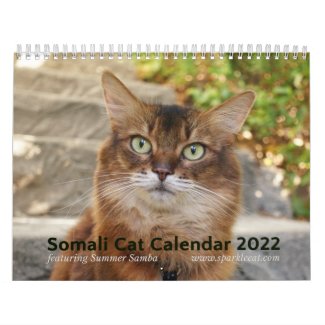 2022 Somali Cat Calendar Starring Summer Samba
See all of Summer's merch at her
her Zazzle Designercat Shop