by Oliver Fluffybottom
Note: This guest post from Mr. Fluffybottom is sponsored. This means the company who sponsored it compensated me to publish it. That said, it was quite wittily done, which is why I agreed to it!
It almost doesn't bear thinking about, but sometimes we cats need to ponder what those dogs are up to. Although we're quicker, smarter and — if I do say so myself: a whole lot more stylish — they still have the size advantage. This is enough to make anyone's fur stand on edge, which is why I've been doing a little research on the subject to see exactly what we're dealing with.
There's a new U.K. series called Animal Heroes that I've been watching with a careful eye, since it's providing some much-needed insight into what our rivals are capable of. The programme follows a range of working animals in the military and shows exactly how they help with day-to-day operations. It's really interesting actually and even I have felt proud about some of the things those pooches can achieve — just don't tell anyone I said that!
Unfortunately, it now looks like things are really getting bad for us kitties. Churchill Insurance, who sponsors the programme, has launched a competition for dog owners to discover whether their canines could cut it in the military and that means any neighbourhood dog could soon have a few more tricks up his sleeve!
They've recruited John Fitzpatrick, a former dog handler in the Royal Air Force Police, to make a series of videos demonstrating how to apply military-style training to dogs, and Churchill wants dog owners to teach their pooches these tricks and techniques before filming them completing the tactics and uploading a video for judging.
Four "lucky" dogs will then be selected as winners in a public vote and go on to compete in a military-style assault course with one hound winning the contest and earning a doggy distinction.
The competition is called Churchill's Dog Boot Camp and while I agree that many dogs need sterner handling, I'm not sure that equipping them with military training is a good move. We cats have only just started to win the war against dogs, but now that they're going to be properly trained, it might be necessary for us to brush up on our own skills.
Of course, in the meantime we can just laugh at all the failed attempts to get dogs to do as they're told; a competition which calls for demonstrations of obedience and discipline is sure to throw up some funny clips when dealing with canines — and when a feline version is developed I know our species will excel in every single aspect!
* * *
---
---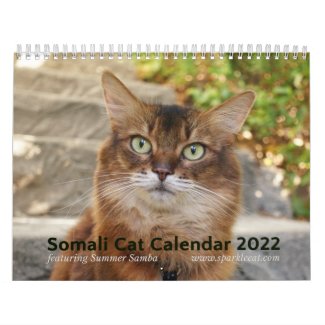 2022 Somali Cat Calendar Starring Summer Samba
See all of Summer's merch at her
her Zazzle Designercat Shop