Aries
March 21–April 20
Let me tell you a story that illustrates the feline relationship with an Aries human. It's pure fiction, but I am sure it has happened somewhere, to some kitty who lives with an Aries: Her human wants to get her a cat tree, but can't afford to buy the one he thinks she deserves. He has the idea for the absolute perfect cat tree in his head, so he decides, "Why not just make it?" With a little research (or perhaps none at all), he goes shopping and comes home with all the things he thinks he needs — the wood posts and planks, the carpet, the bolts (almost forgot those!), and lots of cool cat toys to dangle off the platforms. He spreads them all out in the living room and proceeds to put together the tree, just the way he imagined it… except the idea in his head just doesn't seem to match all the pieces in front of him. He works on it for a while, then gets frustrated and stops. He goes on to other things, and a few days later he gets back to the pieces that are still sitting in the living room. Once again, he is stumped — but he will finish it and it will be awesome, he is sure! This scenario goes on for a few weeks and still, cat tree parts are cluttering up the living room.
Now, if you were another human, you might be a little annoyed by the Aries human's penchant for coming up with ideas too grand to finish. But we cats, we don't really care about that. We are just as pleased to scratch the carpet that is loosely stapled to the platforms that are sitting on the floor, or climb to the top of that unsteady post and use it to launch onto the mantelpiece over the fireplace. As cats, we don't think about what could have been — we are happy enough to use what is there. A cat just knows that her Aries human did something for her and she is fine with that. And Aries humans are glad to have someone giving them an A for effort, even when the overall project gets an Incomplete.
That is not to say that life with an Aries human is all appreciation and unfinished projects. With their big dreams, Aries humans are capable of accomplishing amazing things, and when they have a goal they will go directly to it. But while they are chasing that goal, they may forget your dinner or your bedtime treats ritual. They will impetuously accept a last-minute out-of-town trip and scramble to find a pet sitter for you. Other humans may appreciate how honest and straightforward Aries people are — but we cats, with our roundabout way of expressing ourselves, may confuse our Aries people. Subtle cat language is not native to Aries humans, and often you will have to make things obvious to them. You, sitting by an empty food bowl and screaming, they will get. You, knocking the loaf of bread onto the kitchen floor because you are hungry, they will not.
While you may have the occasional communication problem with Aries humans, they will more than make up for it with their optimistic, enthusiastic attitude. Aries humans can brighten a whole room when they are in a good mood, and when they aren't… they tend to get over it quickly unless it's something really major, in which case your sympathetic purrs will be warmly welcomed. Aries people love freely and passionately, and that kind of uncomplicated affection is always a gift.
The feline signs that will have the most fun with Aries humans are Gemini and Sagittarius — these signs are alive with energy, and Aries will admire your ingenuity and smarts. Independence is important to you three sun signs, and Aquarius too. Aquarius kitties are loaded with imagination and Aries will enjoy your antics (or most of them). Leo cats may not get the worshipful attitude from Aries that they really want (Aries leads and does not follow), but you will appreciate that Aries fire and upbeat nature. Taurus kitties may need some adjustment, however — you prefer lots of quiet time and you like your cat furniture well made and sturdy. But you also instinctively understand that your Aries human is doing his best. Virgo cats may also find some of Aries' impetuous ways a bit worrisome, and it may be an effort for you to learn to go with Aries' flow. Capricorn kitties will find Aries humans a bit on the chaotic side too, but you are good at figuring out how to manage these balls of energy (just don't tell them I said that!). Your persistence and smarts can get them on a routine with minimal griping. Scorpio cats will have a very deep emotional bond with their passionate Aries human, although you may hurt your Aries' feelings on occasion because you hold a grudge way longer than they do! Libra kitties, headstrong Aries humans may not always see your side of things, but you have a way of charming the best out of them. Sweet, sensitive Pisces kitties are a surprisingly good match for Aries — they instinctively are compelled to be gentle with you. Out of all the feline Zodiac signs, Cancer is the most emotionally needy, and you may find Aries lacking in this regard. Cancer loves to be nurtured, and to nurture in kind – something that most Aries humans aren't good at, so in an Aries-human, Cancer-feline relationship, it's always good to have a second kitty picking up the slack.
What about an Aries cat and an Aries human? Talk about fireworks — and mostly the good kind. Life will never be boring when then two of you are together. The main problem will be that both of you want to be Top Cat. Aries kitty, I have some advice for you: let your Aries human think he or she has won this battle. It does not mean you've lost (not in the least!), but all humans like to think they're in charge, and Aries doubly so. Don't worry, the rest of us will know the truth.
* * *
---
---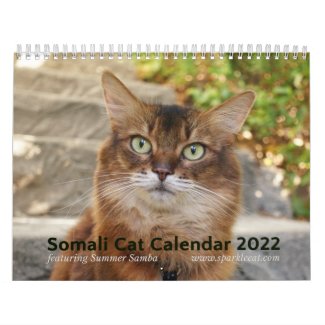 2022 Somali Cat Calendar Starring Summer Samba
See all of Summer's merch at her
her Zazzle Designercat Shop