Do you know that my human was so crazy busy today that she forgot it was time for the Petties to hand out awards? But it wasn't long before she started getting messages that Sparkle had won for Best Cat Blog! We are so happy here that Sparkle got one more acknowledgement of her awesomeness… and that Winging Cat Rescue will get the $1000 donation money for her win.
You all were not kidding when you told me that Sparkle would be a hard act to follow! And I am sure, where ever she is, she is happy she does not have to be the one to film the acceptance speech. I thought you might like to see her acceptance speech from 2011, however, when she won for Best Blog Post. Make sure you watch it til the end… there's a surprise!
If you can't see the above video, click here to watch it on YouTube!
* * *
---
---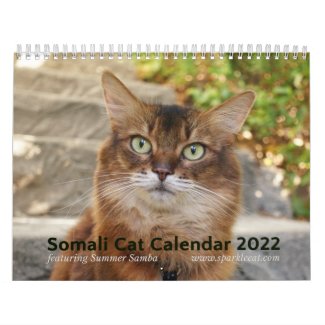 2022 Somali Cat Calendar Starring Summer Samba
See all of Summer's merch at her
her Zazzle Designercat Shop