My human recently came across an article in which a scientist claims people should treat their cats more like dogs. No, this idea didn't come from a study — the guy has been walking his cat on leashes for 13 years. But the truth is, more people are putting harnesses and leashes on their cats than ever before… and a lot of them are really enjoying it! The hashtags #catonaleash and #catwalking bring up tens of thousands of cats enjoying a stroll with their humans.
But what really seemed to bother people about this article when my human shared it on Facebook was the dog reference: Should cats be treated more like dogs? A number of people were quick to point out that dog walking and cat walking are two different things. And they are! Let me point them out.
Part of dog walking involves training to heel and walk alongside the human.
Cat walking is far more experiential for the cat, and the human needs to follow the cat's lead. (I will say that I often walk alongside my human, but I seem to be the exception! But it's actually quite helpful in my therapy cat duties.)
Dogs go on walks to get exercise and to relieve themselves.
Cats go on walks to spend some time outdoors in a way that's safer than allowing them to roam.
It is fairly easy to leash train most dogs. It's seen as a rite of passage for them.
It's not always easy to harness and leash train a cat. That's because many humans don't know the proper way to do it. Plus they expect it to be hard and give up the first time the cat rolls over on her side. If harness and leash training were seen as a rite of passage for a cat, it would actually be much easier for everyone all around.
But dog walking and cat walking do have one important thing in common: it's bonding time for the pet and her human. And time spent together is always a good thing, especially when the both of you are sharing a fun activity.
So should you walk your cat like a dog? Duh, of course not! Dogs and cats have different needs, and humans need to acknowledge and honor that.
But… should cats be treated more like dogs? If that means going out of your way to spend more quality time with your cat, just like you would with a dog, then the answer is yes! Even though you might do things differently with your cat than you would with a dog, a cat will flourish when given more time with you. All relationships improve when they are nurtured, and that also goes for you and your kitty.
* * *
Check out my Valentine's Day Collection on Zazzle!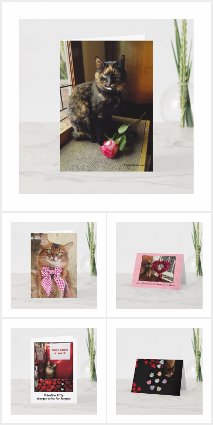 See all of Summer's merch at her
her Zazzle Designercat Shop